Bellevue's Comprehensive Plan is updated about every 10 years. The 2024 update, to guide Bellevue's development through 2044, is now underway. The update includes an environmental impact statement  as a requirement of the State Environmental Policy Act. The EIS will include additional analysis in the Wilburton neighborhood area.
EIS Scope
The City of Bellevue issued a determination of significance on Sept. 29, 2022, which outlines the possible environmental impacts of the Comprehensive Plan. After a scoping period that ended Oct. 31, 2022, the scope of the environmental review is focused on the future of housing in Bellevue, three alternatives to support growth and need for the next 20 years, as well as growth in Wilburton.
Revised Scope
Proposed Scope
Comments/Requests Regarding Individual Properties
The City also solicited feedback from the public relating to amendment requests associated with specific properties which may include desired changes to the plans, policies, or land use map for specific properties. Formal Community Initiated Amendment Requests for changes to the City's Comprehensive Plan land use map, plans or policies related to a particular property will be considered as part of the plan update, but changes to the land use designations that apply to individual properties will be considered in the context of the community's vision for the plan.
Process Timeline
Determination of Significance (September 29, 2022)
Scoping Public Comment Period (September 29-October 31, 2022)
Analysis (Fall 2022 - Spring 2023)
Draft Environmental Impact Statement (DEIS) (Spring 2023)
Public Comment Period (Spring 2023)
Final Environmental Impact Statement (FEIS) (Summer 2023)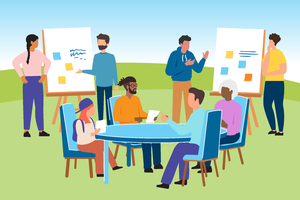 Access and Inclusion
The City of Bellevue assures that no person shall on the grounds of race, color, national origin, or sex as provided by Title VI of the Civil Rights Act of 1964, and related statutes, be excluded from participation in, be denied the benefits of, or be otherwise subjected to discrimination under any City of Bellevue program or activity. Any person who believes his/her Title VI protection has been violated may file a complaint with the ADA/Title VI Administrator. For Title VI complaint forms and advice, please contact the ADA/Title VI Administrator at 425-452-6168