Header Image
Join us for the 2021 Neighborhood Walks!
Residents have an opportunity to visit with city staff and share their unique neighborhood and emerging concerns.
2021 Neighborhood Walks Schedule:
■ Tuesday, July 27, 6:30-7:30 p.m. at Somerset.  Begin and end at Somerset Elementary School 14100 Somerset Blvd. SE
■ Thursday, July 29, 6:30-7:30 p.m. at West Bellevue.  Begin and end at Enatai Park ("Pit Park") 10643 SE 25th St. 
■ Tuesday, Aug. 3, 6:30-7:30 p.m, Virtual Citywide Walk Online.  Required reservation for link: neighborhoodoutreach@bellevuewa.gov  
■ Thursday, Aug. 5, 6:30-7:30 p.m., Northeast Bellevue Begin and end at Ardmore Park 16833 NE 30th St.
Responding to resident requests, city leaders visited with residents during four Summer Chats in 2017, and Neighborhood Walks began in 2018 with six neighborhoods. The Neighborhood Walks program has continued every year since, providing residents and city leadership a great opportunity to engage in productive conversations about what matters most in our neighborhoods.
2020 Virtual Neighborhood Walks
Due to COVID-19, Neighborhood Walks continued this summer as Virtual Neighborhood Walks. During three webinars, City Manager Brad Miyake and directors from each department heard about neighborhood uniqueness, resilience, pride and emerging concerns. Several neighborhood leaders shared issues in their neighborhood, followed by Questions & Answers with the city manager and department directors.
2019 Report
The city manager and directors from each department walked with residents in five neighborhood areas during the summer of 2019. The Neighborhood Walks 2019 report records details, including resident comments and questions.
2018 Report
In 2018, the Leadership Team, including the city manager and department directors, visited six Bellevue neighborhoods with residents. The Neighborhood Walks 2018 report offers details.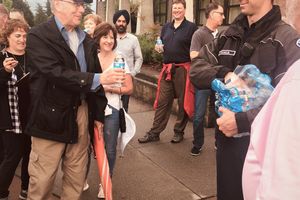 Neighborhood Walk
Woodridge