The Mercer Slough Environmental Education Center is on the east side of the Mercer Slough Nature Park. The Douglas Fir Community Room provides a peaceful atmosphere with lots of natural light and a sweeping view of the Slough. This space offers meeting and lounge areas as well as a kitchenette, which is ideal for business meetings, retreats, classes, receptions, birthday parties, memorials and more. 
See below for photos of the Douglas Fir Community Room. 
Features
Capacity
Up to 25 people Monday through Friday, 7 a.m. to 4:30 p.m., due to very limited weekday parking.
Up to 50 people Monday through Friday after 4:30 p.m., and all day Saturday and Sunday. 
Equipment
Rental fees for the room include 13 upholstered chairs with four small side tables, plus 13 six-foot rectangular tables, 50 stacking chairs, LCD projector, PA/wireless mic, podium, portable whiteboard easel, pull-down screen, and rolling coat rack. The kitchenette is equipped with a refrigerator/freezer, microwave, dishwasher, sink, hot water kettle and a 12-cup coffee maker. Use of the private balcony is also included, and free WiFi is available. 
Renter's Guidelines and Responsibility
Rental reservations must be made by a person 21 years of age or older.
For space availability, please call 425-452-6914 or email MSEECRental@bellevuewa.gov. Requesting availability does not guarantee a reservation; confirmation will be sent when Parks Scheduling Office staff receive your application forms and payment.
Reservations
Policies, Fees, Floor Plans
To start your reservation inquiry, please review the below rental policies, fees and floor plans:
Viewing
The Environmental Education Center is open to the public from 10 a.m. to 4 p.m. daily. Call in advance to arrange a tour - 425-452-2565.
Date Request 
Ready to request a rental date? To reserve your rental, complete and send the below required documents via:
During Reservation
Facility Inspection Checklist: to be completed with Facility Staff during reservation. 
Photos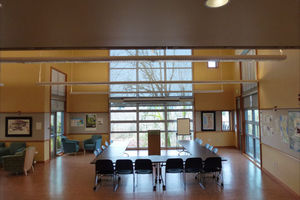 360-Degree Photos
View 360-degree photos of the Douglas Fir community room and kitchen. 
Best viewed on desktop
Parking & Directions
Parking: There are only 10 parking spaces in the parking lot for MSEEC rentals, plus two ADA spaces. Carpools and shuttles are encouraged. The circular drive in front of the Douglas Fir building is available for guest drop-off.  If your event starts after 4 p.m., additional parking may be available, but this is not guaranteed.