Header Image

BAC Updates
The Dive Well will not be available for public use from 2 p.m.-4 p.m. on the following dates:
Holiday Closures - we will be closed on the following dates:

12/24-12/25: Christmas Eve, Christmas Day
12/31-01/01: New Years Eve, New Years Day
The Bellevue Aquatic Center features two indoor pools: the Warm Springs therapy pool and the Blue Lagoon lap pool.
The Warm Springs pool is maintained at 92º F and is used for water therapy, swim lessons and open swim. Open for individual exercise for patrons 13 years of age and older, Warm Springs has accessibility features including a wheelchair ramp, gradual entry and two lifts.
The Blue Lagoon is maintained at 82ºF, and features six 25-yard lap lanes and an attached 13-foot dive tank with a diving board and water slide. The Blue Lagoon is used for open, lap and masters swims, water aerobics, swim lessons and swim teams.
The Bellevue Aquatic Center provides space for club swim and dive teams, as well as other private organizations, to operate aquatic activities such as:
swim and dive practices and meets
synchronized swimming
adaptive aquatic programming
aquatic physical and occupational therapy
If you would like more information on any of these programs please email aquatics@bellevuewa.gov or call 425-452-4444.
Swim Instructors and Lifeguards
The BAC is seeking swim lesson instructors and lifeguards. For those interested in teaching swim lessons, please contact Patrick Simmons for more information at PSimmons@Bellevuewa.gov or 425-452-4102, or view position details online.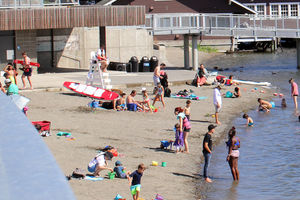 Beach Parks with Lifeguards
Find our beach lifeguard schedule, beach park locations, closure notices and other beach park updates.
Swim Lessons and Programs
Thanksgiving Day Workout
Join us on Thanksgiving Day for our 'Fit for the Feast Swim Workout,' a coach guided session designed for skilled swimmers. Come burn some pre-feast calories before the big meal.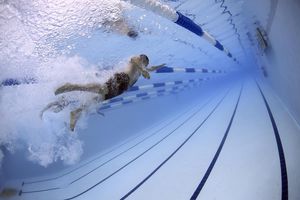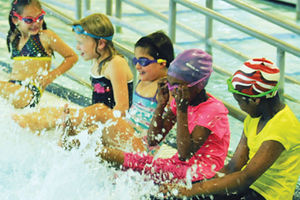 Beginner Swim Lessons (Ages 3-15)
Beginning in November, the BAC will be holding evening group swim lessons, tailored for beginner level preschool and youth age groups. View more details and register online using the below link.
Ages: 3-15
Fees: $162.25-$177
Dates: November 6-December 14
Times: Varies per class
Lifeguard Training Classes
The Bellevue Aquatic Center is offering an American Red Cross Lifeguard certification course. Program offers certification in lifeguard training, first aid, and CPR for the professional rescuer.  Classes will all be blended learning style with the online content sent out one week in advance to be completed before the test portion of the class. The pre-requisite swims will be held the first hour of the first day of each class. 
Ages: 15+
Fees: $75
Days/Times: Friday (4-9 p.m.), Saturday & Sunday (9 a.m.-7 p.m.)
Register: online or call 425-452-4444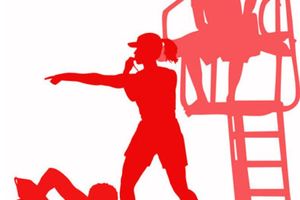 Current Pool Rules
Please arrive in your swim attire and take a soap shower before getting into the pool.  
Please consider social distancing while at the pool in order to respect all individuals using the facility 
All patrons must wear a mask at the Warm Springs Deck. 
Diving board and slide are open during open swim time.  
We allow one spectator per group that enters the pool, with the exception of swim and dive teams.
Children 8 years old and under must have a parent in the water at all times unless they are able to pass a swim test to swim independently.
Children 12 and under must have parent/guardian in the building supervising them. Adult must be 18 years old or above
Inclement Weather Plan
Call 425-452-4444 before travelling to Bellevue Aquatic Center to ensure the facility is open.
In the event of inclement weather, the Parks & Community Services Department will make every effort to communicate the status of facilities and programs, special events and rentals. Administration will decide whether to cancel a program or close a facility based upon the safety of participants and employees and the ability to appropriately staff programs and facilities.
As a general rule, if the Bellevue School District is closed due to a weather event, Parks & Community Services Department classes and programs will be cancelled for the entire day. If the Bellevue School District is on a delayed schedule, call the facility for an updated status report. Select facilities may be open for drop-in activities at a modified level. If you are unable to reach the facility, call the Parks & Community Services Department's general information number at 425-452-6885. Inclement weather can affect park use and trail conditions. Please use caution when visiting park sites during poor weather, as trails and other park facilities may become wet and slippery. Park trails may be closed.