The Bellevue Aquatic Center is committed to providing inclusive recreational opportunities for every member of our community. Our Warm Springs pool is equipped with accessibility features, including ramps and lifts, to make it easier for individuals with disabilities to enjoy swimming.
Browse through the below photos to view our ADA components. In addition, take a virtual tour of our facility with the 360-degree photos of our pools and locker rooms, for a better sense of our facility and the amenities we provide.
Accessible Features
The Warm Springs pool at the Bellevue Aquatic Center is equipped with accessible components such as sound panels, pool lifts and accessible ramps into the pool.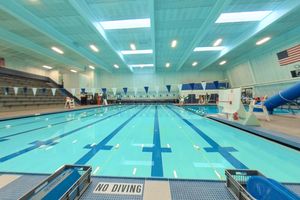 BAC Virtual Tour
Take a virtual tour of the Bellevue Aquatic Center to view the Blue Lagoon and Warm Springs pools, as well as our accessible showers and locker rooms.