Header Image

The Northwest Arts Center hosts several special events and workshops each year. We also coordinate a number of large City events in Bellevue, such as the Bellevue Family 4th of July at Bellevue Downtown Park.  

For an opportunity to sponsor or volunteer at an event, please contact us at 425-452-4106 or fill out a Sponsorship Interest Form.

If you're looking for the City's Special Events, please see the City's online events calendar.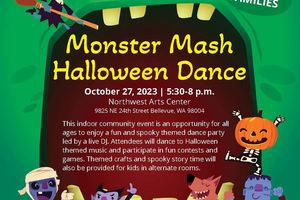 Monster Mash Halloween Dance
Join us on Friday, October 27 from 5:30-8 p.m. for the Monster Mash Halloween Dance, an indoor community event for all ages! Attendees can dance to Halloween themed music curated by a live DJ and participate in fun contests and games. Themed crafts and spooky story time will also be provided for kids in alternate rooms. Costumes are encouraged!