Header Image

The Northwest Arts Center hosts several special events and workshops each year. We also coordinate a number of large City events in Bellevue, such as the Bellevue Family 4th of July at Bellevue Downtown Park.  

If you are looking for an opportunity to sponsor an event or volunteer at an event, please contact us at 425-452-4106 or visit the Programs and Activities page to fill out a Sponsorship Interest Form.

If you're looking for the City's Special Events, please see the City's online events calendar.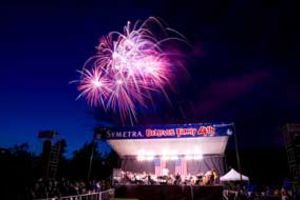 Bellevue Family 4th
The Bellevue Family 4th Celebration is a free public event, attracting more than 50,000 visitors to the Bellevue Downtown Park. The event features live music, family entertainment, children's areas, and food vendors. The event concludes with the Eastside's largest fireworks display synchronized to music performed by the Bellevue Youth Symphony Orchestra.