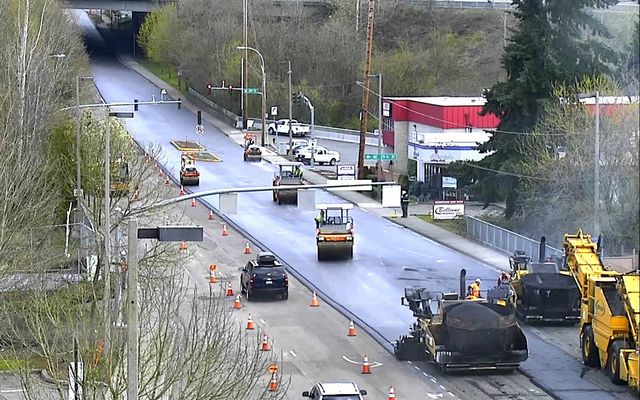 The city's annual repaving season is expected to get underway the week of March 22 with work on a long stretch of busy Northeast Bel-Red Road, from 124th Avenue Northeast to Northeast 30th Street. 
Most construction will happen weekdays, both during the day and at night when grinding and paving will be done to avoid significant traffic impacts. The Bel-Red Road work, which is weather-dependent, is slated for completion this summer.  
Impacts will include some construction noise and lane closures, though at least one vehicle lane will remain open in each direction. Drivers should expect delays in the work zone and use alternate routes if possible. For the latest information on work hours and traffic impacts, check Traffic Advisories. 
Bellevue's Transportation Department is leading the joint project with the City of Redmond. A portion of the work is in Redmond city limits. Bellevue and its contractor, Watson Asphalt Paving, will coordinate with Redmond throughout the project.
Other highlights from Bellevue's 2021 Pavement Preservation Program: 
This year, the city plans to repave a total of 34 lane miles, from April to October. All asphalt work depends on warmer, dry weather. 
Included in the program will be the replacement of over 60 curb ramps to improve accessibility for people who walk and roll.
New for 2021, the city will pilot a type of pavement sealing known as micro surfacing on residential streets in two neighborhoods.
The application, in which a thin, protective layer of emulsified asphalt is applied to the roadway, takes significantly less time and is less expensive than a typical grind and overlay.  
Traditional repaving work in most neighborhoods takes roughly one week and does involve some inconvenience to residents. We appreciate your patience as we work to make Bellevue streets smoother and safer.
Now in its 35th year, the Pavement Preservation Program uses a biennial pavement condition survey and pavement management system to prioritize which streets need to be repaved.
This approach saves money over time by avoiding the need for a full roadway reconstruction, which can cost many times more than repaving. The program's annual budget – approximately $6 million – also covers bridge inspections and maintenance.
More information, including a map, project location list, weekly update and video, is available on the Pavement Preservation page.