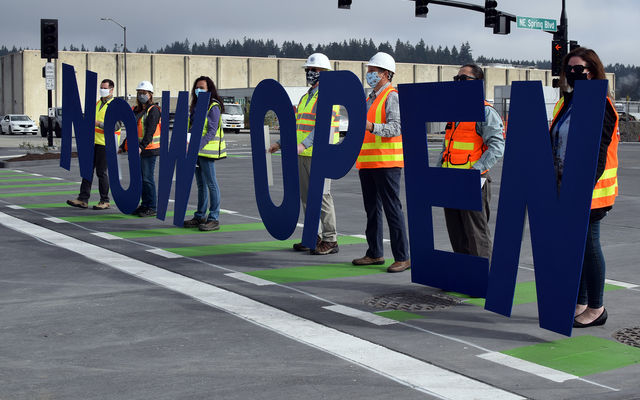 Safe 'ribbon cutting' marks roadway serving walkers, bicyclists and drivers
After four years of construction, a half mile of new roadway opened today in the booming BelRed area to serve people who walk, bicycle, drive and take transit. 
Northeast Spring Boulevard stretches from just east of 116th Avenue Northeast to 124th Avenue Northeast. It will serve as the main east-west connector between downtown and BelRed, two of the city's fastest-growing commercial and residential areas. Eventually, Spring Boulevard will be extended to 132nd Avenue Northeast.  
City elected officials and staff marked the occasion Tuesday morning with a physically distanced walk-through and drive-through before the new street opened to the public at noon. Special guests included Mayor Lynne Robinson, Councilmember Janice Zahn and state representatives Vandana Slatter and Amy Walen.
Features: The new roadway includes four travel lanes with turn pockets; five new traffic signals; a multipurpose path for pedestrians and bicyclists, or sidewalks and an off-street bike path; two bridges over light rail tracks; some on-street parking; landscaping and distinctive design elements.
By the numbers: Five separate project components; 130- and 160-foot long bridges over the East Link light rail line; 158 trees planted; 4,000 linear feet of bike paths; 11,000 feet of water, sewer and stormwater pipes; and 22,000 feet of private-sector communication lines. 
Cost and funding: The total cost of the project was $57 million, including $27.6 million from the city's Capital Investment Program, $9.52 million from the Puget Sound Regional Council, $9.2 million from a federal loan, $5.95 million from the state Transportation Improvement Board, $3.5 million from private developers and franchise utility contributions and $1.09 million from Sound Transit. 
Next steps: Construction is scheduled to begin on the next segment of Spring Boulevard, from 130th to 132nd Avenue Northeast, in early 2021. The final, connecting segment, from 124th to 130th Avenue Northeast, has not yet been funded. Also in the future are plans to connect the multipurpose path on Spring Boulevard to Eastrail, a regional north-south pedestrian and bicycle trail. 
Spring Boulevard is being built in conjunction with Sound Transit's East Link. An East Link station is in a trench near 120th Avenue Northeast in the Spring District. A future segment of the roadway will have light rail running down the middle of the street and a light rail station at 130th Avenue Northeast.
"The vision for the BelRed area is a bold one, and completing this segment of Spring Boulevard is an important step in fulfilling that vision," said Transportation Director Andrew Singelakis. "This project required contributions from every city department and close coordination with Sound Transit, private developers and multiple contractors. I'd like to thank project manager Steve Costa and everyone else involved for their hard work and dedication, with special thanks to nearby businesses and the public for their patience and support."
More information is available at BellevueWA.gov/spring-boulevard.