Published February 15 2021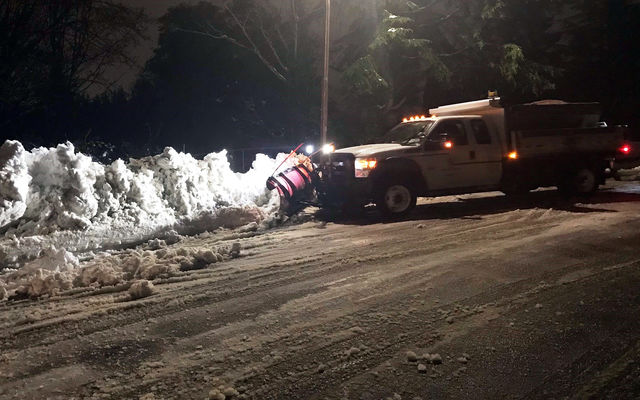 Update 1 p.m., Monday
Nearly all of Bellevue's main and secondary arterial streets were clear of snow as of Monday morning, with city crews continuing to plow and/or sand neighborhood streets 24/7 until all are clear, projected for sometime Tuesday. Icy pavement remains, so please walk, ride and drive cautiously.
Please help crews clear storm drains of snow and ice to prevent neighborhood flooding. If it is safe to shovel the drains near you, your help is much appreciated. If the nearest storm drains are covered by snow or ice and you're not sure where they are, Google Maps can sometimes show their locations. If you see flooding and can't safely clear a storm drain, please call 425-452-7840 for assistance.
Republic Services cancelled garbage/recycling pickup Monday. Residents scheduled for that day can leave out twice the load next Monday. 
No more freezing temperatures are forecast this week, so rain is the only precipitation expected.
Update 3 p.m., Sunday
The forecast calls for snow changing to rain Sunday night, with freezing rain possible during transition. Temperature is expected to warm up Monday.
You can help prevent street flooding due to melting snow by clearing stormwater drains near your property. Snowplow crews continue to work 24/7 to clear main roads, before moving to side streets. Please continue to avoid driving if possible; do so safely if travel is needed.
Update 10:30 a.m., Saturday
Four to six inches of snow fell on Bellevue Friday night and Saturday morning, and city plows were clearing primary arterial streets and some primary neighborhood loops, with the snow expected to continue into the afternoon. Temperatures will drop again Saturday night, with freezing of melted snow likely to make streets slippery, in addition to snowy. 
Stay home if you can. Drive carefully if you can't, giving plows lots of room. Another 1 to 4 inches of snow were expected Saturday night and Sunday morning.
Given the hazardous street conditions, the Bellevue Aquatic Center and Robinswood Tennis Center were closed Saturday.
If Republic Services is unable to collect garbage, recycling and compost, they advise residents to remove carts from the curb by the end of the day. Republic will collect up to two times the usual amount on your next regularly scheduled collection day. Check Republic for notices.
With just a dusting of snow on Bellevue streets Thursday, Transportation crews focused on spraying anti-icer on hilly streets and bridges prone to icing up, but city plows will likely get use Friday night, with enough snow in the forecast to prompt a winter storm warning from the National Weather Service.
Temperatures are expected to stay below freezing throughout the weekend. With funding from Eastside cities, local shelters are expanding hours and making other provisions in some cases to ensure no one is left out in the cold. 
While city streets crews, prepared, you too can get ready for snow and ice, with tips in English here, as well as links to them in other languages. 
Plowing: The city is plowing, sanding and de-icing streets based on the snow response priority map, with main streets cleared before neighborhood ones. Please park vehicles in your driveway if possible, so snowplows can clear the entire roadway. More ice and snow information.
Drive carefully: It may be hard to stop or turn. If the streets are very icy or snowy, avoid driving at all. If the traffic signals are out at intersections, treat the intersections as all-way stops. Report road hazards at 425-452-7840. For emergencies, call 911.
Report a power outage: Please call Puget Sound Energy at 1-888-225-5773. You can also go to PSE to report your outage and see PSE's outage map. Do not use generators or grills inside to heat or cook; they can cause carbon monoxide poisoning.
Clear sidewalks: While city crews plow and sand streets, we ask that property owners clear the sidewalks next to or in front of their home or business if they are able.
Clear storm drains: Clear storm drains near your home that are clogged with snow to prevent flooding when the snow starts to melt.
Sign up for Alerts: You can receive emails or texts about emergencies and extreme weather in Bellevue. Subscribe for Alerts.
Social Services: For people in need of help, resources are available at Food Banks and Shelters, as well as WA211.org.