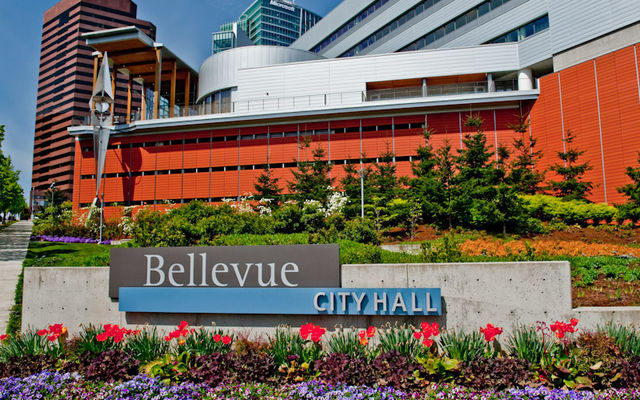 The City of Bellevue will return to pre-pandemic operations at City Hall and other facilities beginning Monday, April 4. The transition comes after the modification of state and county health directives earlier this month, high vaccination rates in the community and dropping COVID-19 infections.   
"Being able to open up City Hall again to normal business hours is a major milestone, and we're excited to have the public back in city facilities," said City Manager Brad Miyake. "Our top priorities throughout the pandemic have been the health and safety of the community and city employees, and delivering exceptional public service. I'm optimistic the worst is behind us, but we'll continue to monitor the situation and adapt services as needed." 
Starting Monday, City Hall and the Service First customer desk will be open 8 a.m.-4 p.m. Room reservations will resume after Monday, April 18, and online booking is now available. Masks are not required in the building, but visitors and staff are welcome to wear one based on their comfort level. 
City Council meetings will return to the council chamber in a hybrid format on April 18, with opportunities for virtual participation. Other boards and commissions will resume in-person meetings after April 25.    
Development Services is offering virtual permit center meetings to allow customers to schedule one-on-one time with staff to receive convenient assistance with general permitting questions prior to applying for permits. The permitting process is now completely paperless – customers can submit applications, upload plans and pay permit fees online at MyBuildingPermit.com. 
Community centers and other indoor parks facilities are also open to the public. Masking is not required in community centers and recreation facilities with the exception of the Warm Springs Pool at the Bellevue Aquatic Center and the fitness center at the Highland Community Center. Masks continue to be required in these areas.   
For the latest information on city facility hours and available in-person services please check COVID-19 Response.