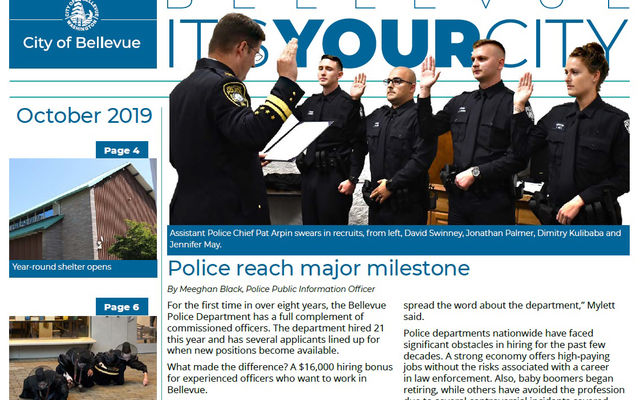 The October issue of It's Your City covers a lot of ground. Features include a hiring milestone for the police and an update underway for the environmental stewardship plan. Also included:
Year-round Shelter: Following through on a City Council priority, the city began operating a year-round emergency shelter for men in September. To help the city develop a more comprehensive response to homelessness, Stephanie Martinez joined the city as our first homelessness outreach coordinator.
Building awareness of Grand Connection: In partnership with the city, the Bellevue Downtown Association hung yellow paper lanterns and put orange bistro tables and chairs downtown this summer to raise awareness of the Grand Connection. Residents also participated in an online survey about it.
Bellwether and Welcoming Week recaps: Both events took place the same week in September, drawing thousands of residents to celebrations of arts and culture.
Last but not least, Mayor John Chelminiak paid tribute in his farewell column to the residents who've supported him for 16 years. He recounts opportunities to visit with neighbors on the campaign trail.  
The City Manager's Office produces It's Your City, a 12-page resident publication, three times a year, with articles by staff in all operating departments. The next issue of It's Your City will come out in February. If you have questions or comments, please contact Claude Iosso, the editor.
Published on 10/22/2019