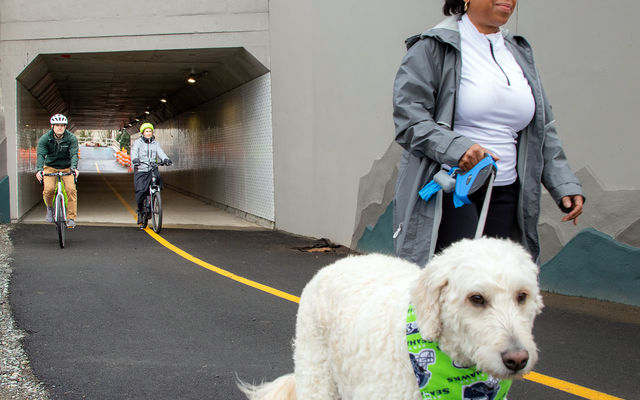 First step to fill gap in Mountains to Sound Greenway Trail along I-90
People who walk, ride and roll in Bellevue will have a safer trip with the official opening today of a new segment of the Mountains to Sound Greenway Trail in the Factoria neighborhood. It's the first step to fill the 3.6-mile "Eastgate Gap" in the regional trail, which runs along the Interstate 90 corridor from Seattle to Issaquah.
The City of Bellevue built the project, with funding support from the state of Washington and in partnership with the Mountains to Sound Greenway Trust. The 0.8-mile long section, from Interstate 405 to the 132nd Avenue Southeast, cost $21 million to construct and features both a pedestrian-bicycle tunnel under ramps from I-405 to eastbound I-90 and a ped-bike bridge over busy Factoria Boulevard. 
The improvements are expected to greatly enhance safety for people using the new 12-foot wide trail. The project also created more vehicle capacity on the highway exit ramp, helping drivers avoid long backups onto I-405.
Early work on filling the Eastgate Gap in Bellevue began when the Greenway Trust obtained a National Scenic Byways grant in 2011. Additional funding came from Bellevue and the Puget Sound Regional Council, with construction funds from the State Legislature. 
Construction on the next section of the Greenway Trail in Bellevue, between 132nd Avenue Southeast and 142nd Place Southeast, has already started. Design and construction funding for the trail segment from 142nd Place Southeast to Lakemont Boulevard - and into Issaquah - is not yet available.
The Bellevue segment of the trail is part of the Mountains to Sound Greenway Trail, which runs through a portion of the Mountains to Sound Greenway National Heritage Area. The vision for trail connections throughout the Heritage Area is that a person walking, rolling or bicycling could travel for recreation or commuting on safe, non-motorized trails that connect Puget Sound urban areas all the way to Central Washington.
Information on the Bellevue trail segments is available at BellevueWA.gov/mts-greenway; additional information on the Mountains to Sound Greenway National Heritage Area is available at MTSGreenway.org. 
Quotes
Judy Clibborn, retired 41st District State Representative: "What a gift to the region to have this magnificent trail connection finished on the Eastside. Bellevue and the county should be  proud to have this open after carefully shepherding the project over many years. Working with the state, the private sector, and local governments to get to this day is a true accomplishment that will be appreciated by everyone for decades to come."
Lynne Robinson, Bellevue Mayor: "This project is the first step in completing the Mountains to Sound Greenway Trail through Bellevue. It will make travel safer for everyone who uses it. It's also a major milestone in our effort to create a comprehensive and connected pedestrian-bicycle network in our city, for both commuter and recreational use. As a frequent bicycle rider, I'm delighted and look forward to finishing the remaining segments." 
Roger Millar, Washington Secretary of Transportation: "Comfortable, safe connections are essential so that people who walk, ride a bike or roll can reach their destinations or another form of transportation. Projects like this help fill the gaps in our state's active transportation network and increase the effectiveness, safety and efficiency of our multimodal transportation system for everyone."
Jon Hoekstra, Executive Director, Mountains to Sound Greenway Trust: "We are so happy to see this segment of the Mountains to Sound Greenway Trail completed and are thankful for the partnerships that made it possible. This project represents a very exciting, tangible step in working toward a more connected regional trail system within the Mountains to Sound Greenway National Heritage Area."
About Mountains to Sound Greenway Trust
The Mountains to Sound Greenway National Heritage Area is the 1.5 million-acre landscape connecting Puget Sound and central Washington. The Mountains to Sound Greenway Trust leads and inspires action to conserve and enhance the Greenway, ensuring a long-term balance between people and nature. Founded in 1991, the Greenway Trust works to promote public land acquisitions, connect a continuous regional trail system, preserve rural lifestyles, teach people of all ages about forests and wildlife, and mobilize thousands of volunteers to care for the landscape. mtsgreenway.org 
About the City of Bellevue 
Known as a "City in a Park" with nearly 100 parks and a vast network of trails and greenbelts, Bellevue is the fifth largest city in Washington state. The Eastside city spans 33.5 square miles, from Lake Washington to Lake Sammamish. As part of the Innovation Triangle, Bellevue is the high-tech and retail center with a downtown skyline of gleaming high-rises, a diverse population of approximately 140,000 and schools that are consistently rated among the best in the country. To learn more about why Bellevue is the city where you want to be, visit BellevueWA.gov.