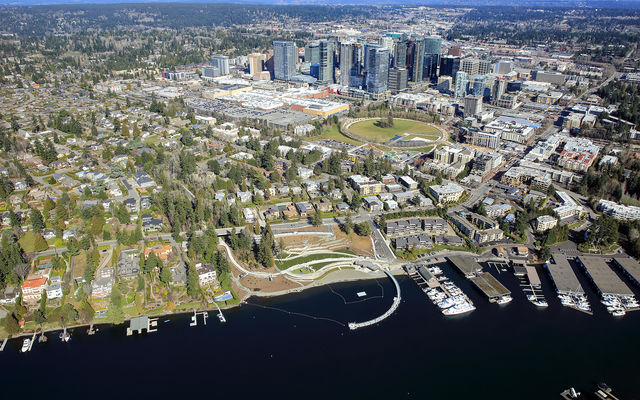 Relief grants for nonprofit "multiplier" organizations
During the COVID-19 pandemic, Bellevue's nonprofit organizations have supported a wide range of businesses and arts and cultural organizations with valuable resources and tools. From webinars helping arts organizations to retool their operations, to new "Buy Local" marketing programs focused on supporting small businesses, these nonprofits have provided critical support to the community and businesses.
In order to assist these critical partners, the City Council this week authorized the use of $100,000 in federal CARES Act funding to provide relief grants of up to $25,000 (depending on need and available funds) to organizations assisting Bellevue businesses and arts and cultural organizations during this time.
"Our partner organizations provide valuable services to businesses, artists, and nonprofits," said Jesse Canedo, chief economic development officer for the city. "This program will help these 'multiplier' organizations stay afloat so they can continue to support the community in the long-term."
Eligible nonprofits must be 501(c)3 or 501(c)6 organizations that provide support to Bellevue businesses and/or arts and cultural organizations as a core part of their mission and operations. Additionally, they must have incurred COVID-19-related costs or expenses not previously satisfied by other funding sources. This funding can be used on typical business expenses, to purchase personal protective equipment or other equipment necessary for reopening, or to compensate for operational interruptions (such as event cancellations) caused by required closures and public health orders.
The city opened the grant fund to applications on Thursday, Oct. 15. Applications, eligibility criteria, covered expenses and program information are available at COVID-19 Business Resources. Applications close on Oct. 26 at 12 p.m. Due to the high demand for this funding and expected volume of applications, we do not anticipate being able to grant awards to all requesting organizations. 
Contact the Cultural and Economic Development team at bizresources@bellevuewa.gov or 425-452-4114 with questions.
This grant program effort builds on previous work by the city to support small businesses through the COVID-19 pandemic, including:
More than 100 relief grants to small businesses and nonprofits, totaling $570,000, targeted at businesses in industries most heavily impacted by the pandemic;
(re)STARTUP425, a collaborative effort providing free, one-on-one technical assistance to small businesses and nonprofits on the Eastside;
Deferred business and operations tax filings and payments, and waived water service late fees and disconnections;
What's Open Eastside, an interactive map highlighting businesses and nonprofits that are operating, as well as special hours, pickup and delivery options, and online services; and
Expansion of patio dining for restaurants on Main Street and elsewhere by allowing temporary expansion of sidewalk cafés into select on-street parking spaces. 
For more information, please sign up for Bellevue's economic development newsletter.
Published on 10/16/2020