Published January 31 2023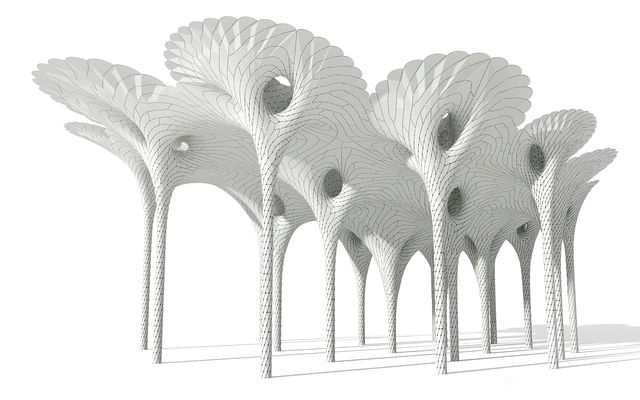 6,665 parts, 180,000 rivets and a lot of elbow grease
Downtown Park is always a hub of activity for the community, and over the next six to eight weeks residents and guests have something new to watch, as artists and fabricators install an innovative permanent public artwork. The artwork is the final piece of the Northeast Gateway project at Northeast Fourth Street and Bellevue Way. A plaza and water feature were completed in May 2021.
This cutting-edge artwork by THEVERYMANY mixes art and architecture, with particular focus in the realm of public art. Fluted columns will rise to form a perforated canopy with light filtering through. Made up of over 6,600 unique panels with over 60,000 handmade folds and fastened with over 180,000 rivets, the artwork will reflect Bellevue's innovative technology sector, love of natural forms and robust creative community of thinkers and makers.
Conceived as a key location on the Grand Connection, this artwork is funded by the City of Bellevue and was selected by the Bellevue Arts Commission. It will be included in the city's Public Art collection.
About the Artist
THEVERYMANY is a Brooklyn-based art and architecture studio specializing in work that unifies surface, structure and experience into a single system. Founded and led by Marc Fornes, a practicing architect, THEVERYMANY represents a body of research that advances new computational outcomes and implements complex techniques in architecture and beyond.