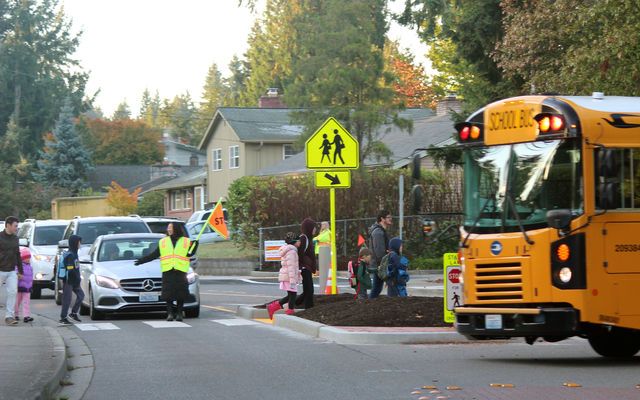 Students in the Bellevue School District, grades 1-12, get back to in-person learning starting Wednesday, Sept. 1; the first day of classes for Issaquah School District students, some of who live in Bellevue, is Tuesday, Aug. 31. 
In case all the pandemic-related changes and adaptations have made you a bit rusty about getting to and from school or looking out for students en route, here are some travel tips to help ease the transition.  
Bellevue police remind drivers that when yellow lights are flashing in school speed zones, the speed limit is reduced to 20 mph. In other school zones, the 20-mph limit is in effect when children are present, so be prepared to slow down and watch out for students walking or biking. 
Also, remember to stop for school buses when their lights are flashing or the stop paddle is out – or be prepared to pay a $400 fine. Cameras mounted on school buses help improve student safety.
The city's photo enforcement cameras will operate during times that school zone lights are flashing at Odle Middle School and at Stevenson, Lake Hills and Sunset elementary schools. 
Here are some other safety reminders from Bellevue Police:
Pay attention while driving. It's illegal to use a handheld personal electronic device while driving, even when stopped at a traffic sign or signal or stuck in traffic. Fines are moving violations that are reported to insurance companies.
Watch for pedestrians and bicyclists when entering or exiting a school driveway or turning a corner.
Stop behind the crosswalk at intersections to allow room for pedestrians. Pedestrians should use crosswalks and cross with the crossing sign or light.
If your kids walk or bike to school, make sure they know the rules of the road and your expectations.
The Bellevue SchoolPool program facilitates carpooling, biking and walking, reducing traffic congestion around schools. It's a partnership between the city, King County and the school district.
The Bellevue School District and Issaquah School District each offer additional back-to-school information.