Published December 7 2022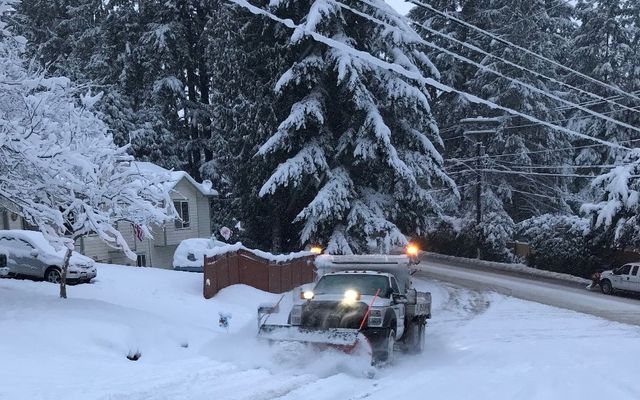 As we enter snow and ice season, the Bellevue Transportation Department is launching an online map that will track which streets are plowed almost in real time during winter weather events. 
In a beta version still being tested and refined, the winter response map pulls data from GPS tracking technology attached to the city's snowplows, sanders and de-icers. During or right after a snowstorm, people considering going out on the roads can consult the map and see when an arterial street was most recently serviced. Crews had a chance to do a small-scale test run of the technology in our recent snow and ice event last week. The map is only activated when a widespread snow or ice event occurs.
When snow and/or ice accumulate in Bellevue, Transportation crews in the city's 15-truck fleet diligently work 12-hour day and night shifts to plow, sand and de-ice roads based on the snow response priority map. Main streets are cleared before neighborhood ones to allow access for emergency vehicles, transit, school buses and commuter traffic. 
In the beta version of the winter response map, data is available for primary and secondary arterials and is refreshed every hour. The city anticipates updated versions of the map will include all Bellevue routes serviced in winter. 
After servicing, streets may still have ice, snow or slush. Always use caution when driving in winter conditions and leave extra distance when following snowplows or other vehicles.
To report road hazards such as flooding, fallen trees or blocked streets, call the city's 24-hour response line at 425-452-7840 or use the MyBellevue portal or app. For emergencies, call 911.
Bookmark the winter response map to track when it is active and city crews are clearing snow and ice. Keep up to date on traffic impacts any time by checking Bellevue's real-time traffic map and cameras or the Transportation Department's Twitter channel.