Published September 3 2021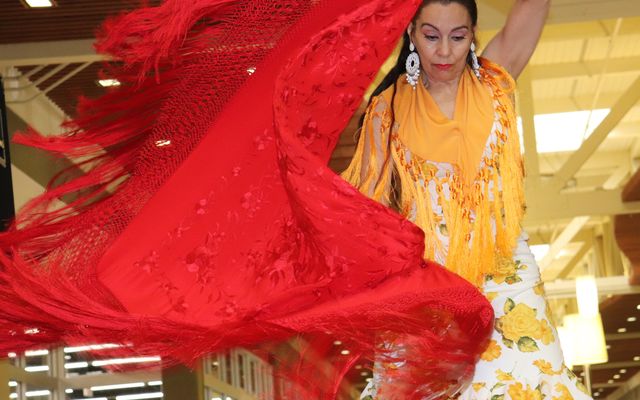 Events highlight culture, art with several outdoor settings
Eastside cities and community organizations will celebrate the sixth annual Welcoming Week with several events Sept. 10-19. Welcoming America's theme for 2021's Welcoming Week is "Belonging Begins with Us." Welcoming Week is dedicated to welcoming new immigrants and celebrating diverse communities with all community members both new and longstanding. Local residents are invited to engage through the sharing of cultural traditions, art, dance and community during the celebration. 
Several events take place in Bellevue, including: 
PopUp StoryWalk, "Drawn Together" Sept. 4-25, dawn to dusk
Local literacy program PopUp StoryWalk presents an installation along the Lake to Lake Trail from Wilburton Hill Park to Bellevue Botanical Garden, sharing the story "Drawn Together" along the way, which is a selection from their diversity series. The story explores the experience of a young boy visiting his grandfather. Their lack of a common language leads to confusion, frustration, and silence. But as they sit down to draw together, something magical happens. With a shared love of art and storytelling, the two form a bond that goes beyond words.
Access to the park and garden are free, and the PopUp StoryWalk will be open daily from dawn to dusk Sept. 4-25. More information on this and other PopUp StoryWalk installations is at https://www.popupstorywalk.org/.
Cultural Conversations, Belonging in the Garden, Friday Sept. 17, 1-2:30 p.m.
Cultural Conversations begins a new season of storytelling on Friday, Sept. 17, 1-2:30 p.m. for 'Belonging in the Garden' featuring informal pop-in conversations and sharing. Reconnect outdoors in the Gathering Place, an outdoor covered reception area at the Bellevue Botanical Garden. We will be following King County Guidelines for safety during the COVID-19 pandemic; masks will be available. 
Share your story on our interactive story boards. Take a walk with friends and check out Bellwether art installations at the garden. As we navigate the concept of belonging for those who have moved here from across the U.S. and the globe, let's consider what is universal about flowers, gardens, traditions, and the connections they create. How is that expression of beauty similar? What might be different or a surprise?
For more information or accommodation needs, contact NeighborhoodOutreach@bellevuewa.gov or 425-452-6836. All meetings are wheelchair accessible.
Bellwether, Sept. 9-19 (and all month at Bellevue Botanical Garden and Bellevue Arts Museum), various times
The annual Bellwether art and culture event coincides with Welcoming Week this year and will feature exhibits at Bellevue Botanical Garden and the Bellevue Arts Museum during the entire month of September, including several pieces honoring the Coast Salish people and other cultures. In addition, the garden will host artist Gustavo Martinez for a free, open-air public sculpture demonstration on Saturday, Sept. 11, starting at 11 a.m. 
Other art installations and performances throughout Bellevue during the official festival from Sept. 9-19 also reflect the Welcoming Week theme of "Belonging Begins with Us" such as roving performances at Bellevue Downtown Park showcasing ancestry and self-discovery, performance art by Anida Yoeu Ali exploring Islamophobia and homophobia and an artist panel discussion about censorship in the arts. 
The latest schedule and more details on exhibits and performances throughout the festival are at bellwetherart.org. 
Tree Talks at Bellevue Botanical Garden, Sept. 18, 10 a.m.-1 p.m.
10 a.m.-1p.m. – "Ask Us Anything" you've ever wanted to know about trees and how to care for them, answer trivia, or win a prize.
11 a.m. – 12 p.m. – Come share stories about your favorite tree and the importance of trees in your culture and those across the world in this Welcoming Week Tree Talks session. Learn more about the value and benefits of trees in Bellevue, the city's work to preserve the urban forest, and learn from others about their passion for both native Washington trees and trees from around the world. Discussions will be in English, Mandarin, Cantonese, and Korean.
RSVP  :::   注册   :::   報名   :::   가입하기
https://www.eventbrite.com/e/tree-talks-tickets-168468881961  
CANCELED: Community Connections Fair at Crossroads Park Sept. 18 
Other highlights
A joint proclamation commemorating Eastside Welcoming Week between the city councils of Bellevue, Kirkland, Issaquah, Redmond and Sammamish will be read at the Bellevue City Council meeting on Sept. 13 at 6 p.m. The meeting can be accessed through the city's Bellevue Television YouTube channel, and the proclamation will be posted to the city's council calendar after the meeting.
More detail and the latest schedule for Bellevue's Welcoming Week events can be found at bellevuewa.gov/welcoming-week. A full schedule of Eastside Welcoming Week events can be found at https://ericmembers.org/welcoming-week-2/.
Welcoming Week is sponsored by Welcoming America, a nonpartisan, nonprofit organization that supports local outreach efforts to build bridges between newcomers and long-time residents. This year's national campaign is dedicated to fostering a more welcoming nation where everyone–regardless of their background–can feel they belong.