Published February 7 2017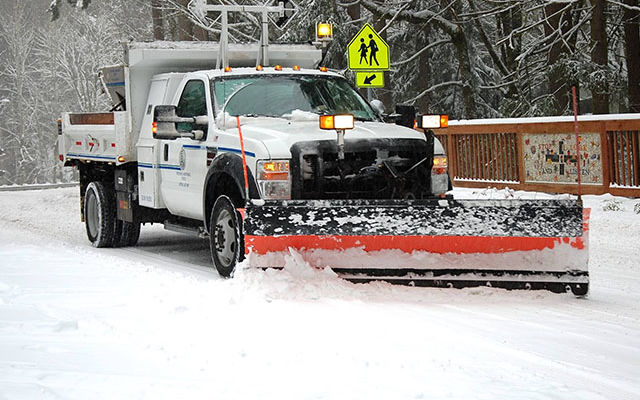 Snow Sunday night in Bellevue ranging from 1 to 8 inches caused power outages and road closures Monday due to falling trees and downed power lines. Freezing temperatures overnight made driving tricky in places Tuesday; schools were closed again and garbage pickup was cancelled or delayed Tuesday.
City crews were plowing Tuesday morning, still on primary streets in some cases, managing with downed trees and branches. Call Puget Sound Energy at 1-888-225-5773 to report a power outage; you can also report it online and check PSE's outage map.
City crews that started applying deicer and plowing roads Sunday afternoon continued that work through Monday. Many parks facilities were closed and programs cancelled Monday because of the snow. Some may be closed Tuesday as well, so check before you head out.
The forecast calls for rain and snow showers to continue Monday and into Tuesday, with an overnight low at or below 32 degrees. Ice on roads and sidewalks will make driving and walking hazardous. Please use caution.
Here is information that will help in dealing with the ice and snow. For more detailed information, please check the city's Extreme Weather Response page and social media channels.
Reporting trouble: Only call 911 for life-threatening emergencies. Call the city's Operations and Maintenance Support line at 425-452-7840 to report trees or other hazards in the roadway;

Power outages: If you lose power, to prevent poisoning from carbon monoxide, NEVER use a gas or charcoal grill indoors, and NEVER use a generator indoors; only use outdoors far from open windows or vents. Call Puget Sound Energy at 1-888-225-5773 to report a power outage; you can also report it online and check PSE's outage map. Stay away from downed power lines;

Road closures/dark intersections: City crews and PSE crews are attending to several road closures due to downed trees or power lines, including multiple locations on Southeast Newport Way. Remember to treat dark intersections as four-way stops;

Building/program closures: All Bellevue community centers are closed on Monday and all rentals are cancelled;

No garbage pickup: Due to snow and icy road conditions, there will be no garbage, recycling, or organics on Monday, Feb. 6. Please remove carts from the street. On your next regularly scheduled collection day, up to twice the regular amount of materials will be collected at no additional charge. More information.