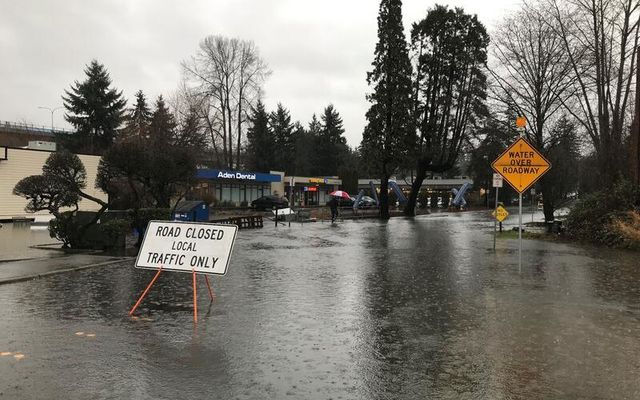 Last updated 1 p.m. Dec. 22
All streets closed due to flooding after a rainstorm moved through the area Dec. 20 and 21 are now open. The storm resulted in regional flood warnings, prompting the city to remind residents to take extra precautions while driving and avoid flooded streets or driving through standing water on roadways.
Utilities and Transportation crews worked to address known problem locations and respond to calls through the storm. The following streets are now open.
126th Avenue Northeast at Northeast Eighth Street. 
West Lake Sammamish Parkway - between SE 26th Street and Northup Way.  Expect intermittent lane closures near the work zone at 2442 West Lake Sammamish Parkway as repair work on the storm pipe continues. 
Souhteast Seventh Place- from Lake Hills Connector to 128th Avenue.
148th Avenue Southeast - all lanes in both directions from SE 8th Street to Main Street.
Southeast 36th Street- to Factoria Blvd SE.
136th Place Northeast - Sound Transit's contractor has opened northbound and southbound lanes of 136th Place NE between NE Spring Blvd and NE 20th Street. 
Northeast 21st Street - 140th Ave. NE, east to where the street ends.
You can also find up-to-date traffic impacts on the city's Traffic Advisories.
What you can do to help prevent flooding:
If you have a life-threatening situation, call 911.
To reporting flooding at your home or business, flooded streets or hazardous road conditions, call Bellevue's 24-hour emergency number at 425-452-7840.
Clear local storm drains of leaves to prevent flooding in your neighborhood. Remember to clear your drain only if it is safe. Stay out of the street and work from a sidewalk if possible. Put all leaves and compostable debris in your organics cart. 
Remember that during a storm it's normal for streams to rise and some parking lots and parks to fill with water. Do not walk or drive through flooded areas, which can be dangerous. Learn more at bellevuewa.gov/BeFloodReady.
For the latest storm-related updates, follow @BellevueWA on Twitter.
 
Published on 12/20/2019