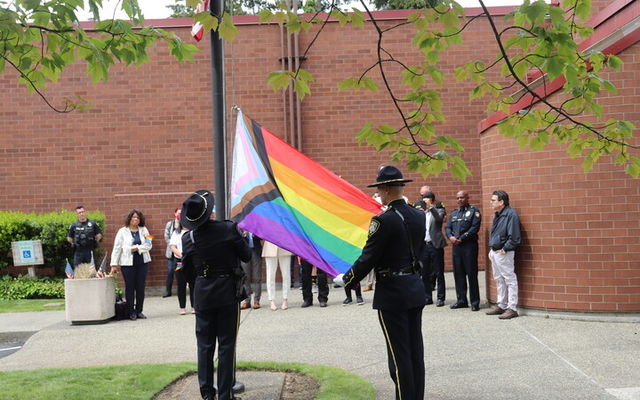 Flag raising to be followed by performances and food
In celebration of Pride Month, the City of Bellevue invites people who live or work in Bellevue to its annual Pride flag raising June 1, followed by a keynote speech, performances from local LGBTQ+ artists, music and food. The ceremony will be live streamed on the city's YouTube channel and recorded for on-demand viewing.
Community members are encouraged to attend the free event at City Hall Plaza on Thursday, June 1, 12-1:30 p.m. (event flyer).
At the flag raising, city leaders will deliver brief remarks recognizing the importance and contributions of the LGBTQ+ community and celebrating diversity and inclusion in Bellevue. Jodi O'Brien, a sociology professor at Seattle University, will deliver a keynote address celebrating strides made by the LGBTQ+ community to advance inclusion and representation.
The speech will be followed by a theatrical performance highlighting the talents of queer artists in the community. The program will conclude with music by a live DJ and light refreshments, and the public can visit resource tables with information on supporting the LGBTQ+ community.
Event collaborators include the city's Rainbow Alliance for Diversity employee group, with support from local partners Meta, Symetra, Pride Across the Bridge, Eastside Pride and others.
In partnership with the Bellevue Downtown Association, the city is also sponsoring Pride banners that will hang along downtown Bellevue's Grand Connection in June.
The BDA will also host the first-ever Paws and Pride Dog Jog and Walk in downtown Bellevue on June 4, 8:30 a.m. at Ashwood Park. Partial and full street closures may impact traffic on adjacent streets 6:30-10 a.m. Detours and road closure signs will be in place, with police officers providing traffic control. More event details are available at Traffic Advisories. 
The City Council will also recognize Pride Month with a city proclamation at the June 5 council meeting.
For alternate formats, interpreters or reasonable accommodations, please phone at least 48 hours in advance at 425-452-7881 (voice) or email diversity@bellevuewa.gov. For complaints regarding accommodations, contact the city's ADA/Title VI administrator at 425-452-6168 (voice). If you are deaf or hard of hearing, dial 711.