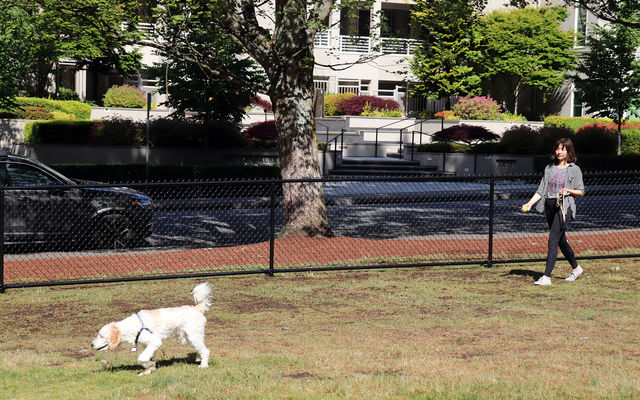 Recognizing the growing demand for accessible and safe spaces for pets and their owners to get exercise and enjoy the outdoors, Bellevue Parks & Community Services is launching a new pop-up, off-leash dog area pilot program this summer at three parks across the city.
These temporary facilities, with fenced areas, double entry gates, garbage cans and dog waste bag dispensers, opened Thursday, June 1. As the pilot progresses, the temporary sites may transition to being permanent, depending on level of use, community feedback, capital construction costs and other factors. People can provide input via an online survey at BellevueWA.gov/dogs.   
If any off-leash areas are made permanent, features may be added such as water fountains, shelters, dog wash and surface improvements. Funding from the new parks levy will support the development of these new facilities. 
The pop-up locations were chosen based on the 2022 Parks & Open Space System Plan, which prioritized siting off-leash areas facilities near downtown and in other underserved neighborhoods. The sites include:
Crossroads Park, 999 164th Ave. NE: one-acre area in this 35-acre park.
Wilburton Hill Park, 12400 Main St.: Off-leash area along the Lake to Lake trail, with excellent access for drivers and neighborhood walkers. 
Wildwood Park, 260 101st Ave. SE: good pedestrian access, but limited parking.