Published February 7 2019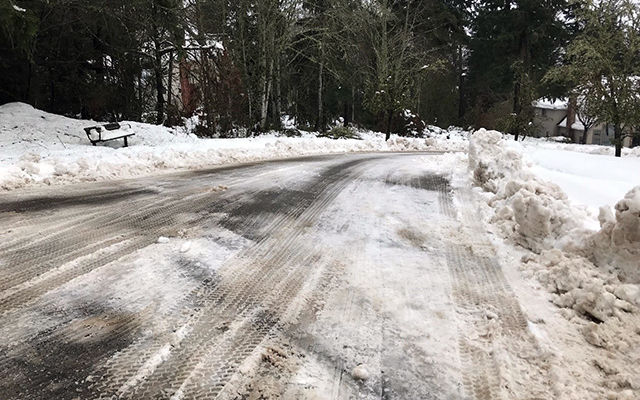 Thursday, Feb. 14 Update
After a freeze Wednesday night that added challenges on some neighborhood streets, the temperature rose to 40 degrees in Bellevue Thursday. Rain was in the forecast for much of the day.

Now on their 11th day plowing around the clock, city crews continued to make progress on neighborhood streets, trying to get at all of the hills first.
City Hall and nearly all parks facilities are open Thursday. Bellevue schools and Bellevue College are also back to full operations.

While there remains considerable snow and slush on some neighborhood streets, all of Bellevue's arterials, including neighborhood secondary routes, are clear. Plows, including a couple of repurposed Parks trucks added to the fleet Wednesday, will continue to run 24/7 until every street is clear, likely on Monday.

The National Weather Service is still warning of possible flooding and landslides. To prevent flooding, residents are asked to clear snow and ice from the storm grates on their blocks. Additionally, please clear the sidewalk in front of your house or business.

Ownersof buildings with flat or low-slope roofs will want to make sure their roof drains are clear, to prevent overload and possible collapse.
Wednesday, Feb. 13 Afternoon Update
We're still plowing neighborhood streets, with much of the fleet tackling the steep hills in southeast Bellevue, where conditions are worst. Wet snow up to two feet deep can't be cleared in one pass.

Please clear your driveway and sidewalk. Our 14 snowplows can't do it.

It could take days to clear EVERY street in Bellevue. If you live on an unplowed street, we understand your frustration and ask for your patience. Report hazardous roads to 425-452-7840.
Wednesday, Feb. 13 Update
While loads of slush still on neighborhood streets make some travel tricky and forced closures or delayed openings for schools, City Hall and most city facilities are open for business Wednesday. The Aquatic Center is closed, but most other parks facilities are open.
The National Weather Service Wednesday morning warned of hazardous weather conditions across the region, citing the possibility of landslides due to snow melt and rain. The forecast calls for partly sunny skies with a high of 37 degrees, with temperatures dropping below freezing tonight.
Crews were still plowing neighborhood streets. In their 10th straight day of plowing 24/7, they have to work with care so as not to leave piles or windrows of slush blocking people's driveways.
All Bellevue public schools are closed Wednesday. Bellevue College's main campus opens at 10 a.m., with all classes before 10:30 cancelled. The college's north campus opens at noon, with noon classes the first ones for the day.
Most Metro Transit buses are running, in some cases along planned reroutes (alert).
The Planning Commission's Wednesday meeting has been cancelled.
Lakemont Boulevard was reopened after closure Tuesday due to a downed power line,
Owners of buildings with flat or low-slope roofs are advised to ensure roof drains are clear, to prevent overload and possible collapse.
Tuesday, Feb. 12 Update
Rising temperatures made for slushy streets in most of Bellevue Tuesday, with rain falling in the morning. All that slush is expected to stick around into Wednesday, with the low expected to be 34 degrees overnight. Clear skies and a high of 39 are forecast for Wednesday.

Crews were out Tuesday afternoon, plowing neighborhood streets after clearing all primary and secondary streets. The going is slow because the heavy snow and slush has to be plowed so it doesn't block driveways. Plowing will continue through the night.

King County Metro Transit buses were operating on snow routes Tuesday.
City Hall is open, as are Mini City Hall and the Crossroads and North Bellevue community centers. However, the Aquatic Center, Kelsey Creek Farm, Northwest Arts Center and Highland and South Bellevue community centers are closed.

The Tuesday night Art of Listening class at Newport Way Library has been cancelled, as has the Parks & Community Services Board meeting and the Planning Commission's Wednesday meeting.

Bellevue public schools and Bellevue College are closed Tuesday.

Lakemont Boulevard was closed between Southeast 56th and 62nd streets due to a downed tree on a power line, as was 132nd/134th Avenue Northeast between Northeast 24th Street and 60th Avenue Northeast. Puget Sound Energy did not have an estimate on when those streets would be cleared. Please avoid the areas.

To reduce the potential of heavy snow overloading roofs, Development Services recommends that owners of buildings with flat or low-slope roofs or perimeter parapet walls take action to maintain drainage of rain water and snow melt to roof drains. Contractors or others going onto potentially overloaded roofs or into buildings with such roofs should take precautions.
Monday, Feb. 11 Afternoon Update
Additional snowfall Monday afternoon makes the evening commute more challenging. A possible shift to rain Monday night or Tuesday morning could complicate the Tuesday morning rush hour with flooding, sleet and/or slush. Light, showers possible through Wednesday afternoon.
"Caution" remains the word to live by for drivers and pedestrians. City crews were still plowing and de-icing primary routes Monday evening,

Please keep sidewalks in front of your property clear, remove slush and debris from storm drains to prevent flooding, park vehicles in the driveway and allow ample following distance behind snowplows.
Monday, Feb. 11 Morning Update
The National Weather Service is dealing with a complicated forecast for the Monday-Tuesday system. A period of mixed precipitation could cut into snow totals. Some warmer air will attempt to move in from the south, but areas from Seattle southward could still pick up an inch or more before it turns to rain or rain/snow mix this evening.
But hazardous travel is expected regardless. Drivers and pedestrians should use caution.
City crews were team plowing and de-icing primary routes Monday morning, expecting to shift to neighborhood streets by the afternoon.
City Hall is open. Mini City Hall is also open, though it will close at 4 p.m., when Crossroads Bellevue closes.

Several parks facilities are closed Monday, including the Aquatic Center, the Lewis Creek Visitor Center, the Northwest Arts Center and the Highland Community Center. The Crossroads Community Center is open 11 a.m.-2 p.m. While other facilities are open, classes and programming are cancelled in some cases.

Metro buses are operating on the Emergency Service Network on Monday and Tuesday.

Bellevue schools are closed Monday.

Bellevue College main and north campuses are closed.

Tonight's Extended Study Session of the City Council will begin at 4:30 p.m. The council will address the consent calendar and will defer all other study session items to an agenda in the future. There will be no opportunity for oral communications.

Republic has suspended solid waste collection in Bellevue today. Affected customers will be notified by Republic and be able to set out twice the amount of materials for collection at no additional charge at their next regularly scheduled collection day.

Tonight's open house at the Bellevue Botanical Garden concerning the Southeast Eighth Street and Lake Hills Connector intersection traffic congestion study has been cancelled.

The Parks & Community Services Board's Tuesday meeting has been cancelled.
Feb. 10 Update
Expect snow to push into the region, 1-3 inches, late Sunday afternoon and continue into the early overnight hours. There will be a brief break in precipitation Monday morning before the next winter blast arrives. The National Weather Service is predicting a second Monday-Tuesday system.Accumulation could be an additional 6-8 inches.
The city's Transportation Department street crews continue operating and are on call 24/7. Primary routes are plowed, and crews are working on neighborhoods during the day. Please note that freezing temperatures overnight and today can slow clearing efforts.
Again, reconsider traveling, especially driving. If you do have to leave your home, use caution.
Mayor John Chelminiak signed a Proclamation of Emergency on Saturday in response to the persistent winter storm conditions. The action is similar to emergency declarations signed by other local jurisdictions such as the state, Seattle, Renton and Redmond. Among other advantages, it allows the city to act quicker when acquiring needed supplies.
Saturday, Feb. 9
Bellevue residents woke up to a sea of white, with 6 to 10 inches of snow on the ground. A Winter Storm Warning remains in effect for the Puget Sound through 4 p.m. Currently road crews are plowing primary neighborhood and secondary routes (see map below). These crews continue to work 24/7 in 12-hour staffing shifts.
Please reconsider traveling today. If you do have to leave your home, use caution.
Additional information to be aware of:
King County Metro has activated its Emergency Snow Network.

As announced Friday, many city park facilities are closed.
Friday, Feb. 8
Travel around Bellevue returned to normal for many Thursday, just in time for more snow expected to fly here Friday.
The National Weather Service has a winter storm watch going into effect Friday afternoon to Saturday afternoon in Puget Sound, with up to a foot of snow predicted to fall in places over that time, accompanied by stiff winds. The estimated range for Bellevue is 5 to 7 inches, with flakes likely coming down in earnest in time for the Friday rush hour.
City Hall will be open Friday, but many parks facilities, including community centers and the Aquatic Center, will close between 2 and 4 Friday afternoon and stay that way all of Saturday and Sunday. A Monday open house at the Bellevue Botanical Garden concerning possible improvements to the Southeast Eighth Street and Lake Hills Connector intersection has been cancelled.
The Bellevue School District will dismiss students two hours early on Friday, with all part-day preschool classes cancelled.
City crews will be plowing, sanding and de-icing streets based on the response priority map. Be patient when traveling and keep the following in mind:
Be prepared: Information is available at Emergency Preparedness. Preparedness tips are also available at Take Winter by Storm.

To report a power outage, please call Puget Sound Energy at 1-888-225-5773; you can also report it online and check PSE's outage map.

Clear sidewalks: While city crews plow and sand streets, property owners are responsible for clearing sidewalks adjacent to their home or business.

If the power is out and traffic signals are not working, treat the intersection as a four-way stop.

Please park vehicles in your driveway instead of on the street, if possible, so snowplows can clear the entire roadway.