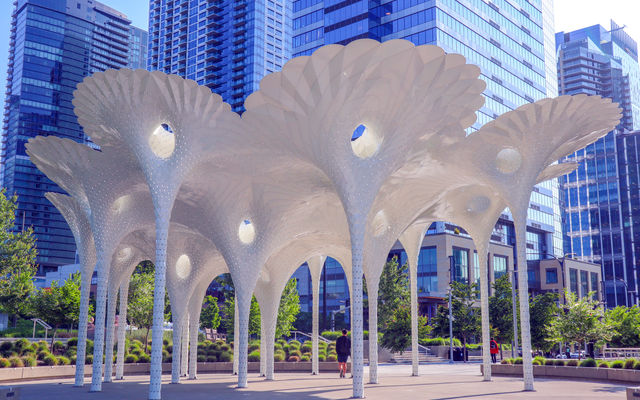 June 24 event to mark completion of Northeast gateway 
Bellevue's newest public art piece, which completes the northeast gateway at Downtown Park, will set the stage for dancers, donuts and DJ beats on Saturday, June 24, 11:30 a.m.-3 p.m. Piloti, featuring fluted columns that support a perforated canopy, is the largest free-standing art piece ever commissioned by the city.
The public is welcome to join in the celebration of the installation and the gateway, a party that will feature activities for all ages, along with food and entertainment. 
The art, by New York art-architecture studio THEVERYMANY, is titled "Piloti," which can mean "column" in Italian. Completed in May, Piloti contains more than 6,000 white aluminum panels riveted together in a precise pattern to create columns more than 20 feet high that people can walk among. 
The gateway plaza, at the corner of Northeast Fourth Street and Bellevue Way, is a key spot along the Grand Connection, a walking and rolling corridor that will stretch from Meydenbauer Bay Park through downtown to Wilburton, east of Interstate 405. Other plaza highlights include a waterfall with color-changing lighting, new landscaping and seating, and accessible ramps into Downtown Park.
The City Council and leadership from the Parks & Community Services and Community Development departments will participate in a ribbon-cutting during the celebration. More information on the event, including the schedule of activities, can be found at Piloti.
Situated between the fields of art and architecture, Piloti is designed to reflect Bellevue's innovative technology sector, natural forms and robust creative community of thinkers and makers.