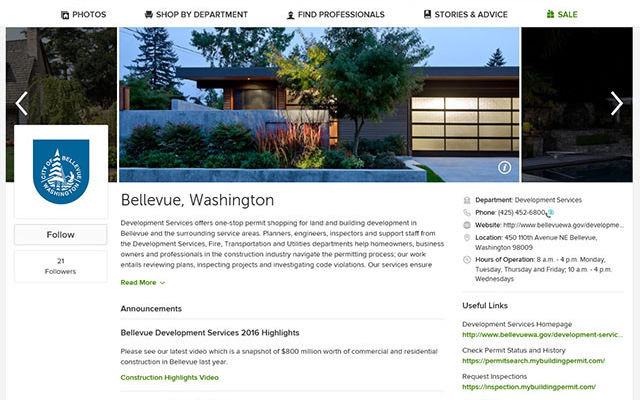 The City of Bellevue now has a home on Houzz.com, the world's largest home-improvement platform. As part of a pilot project intended to help homeowners and contractors remember the permit part of the home improvement/construction equation, Bellevue is one of seven cities around the country with pages on the site.
With 40+ million users, Houzz is a place for homeowners and construction/design professionals to share ideas, find services and explore images of projects such as kitchen remodels, new construction and landscapes.
One missing ingredient until recently was information about the permit process. Many users don't know they need a permit for some home improvements. Now, the city is partnering with Houzz, and has a city section on their website that includes links to Development Services, images of residential projects in Bellevue and a map of residential permit activity.
Bellevue saw $800 million worth of commercial and residential construction in 2016 (video).