Published February 23 2022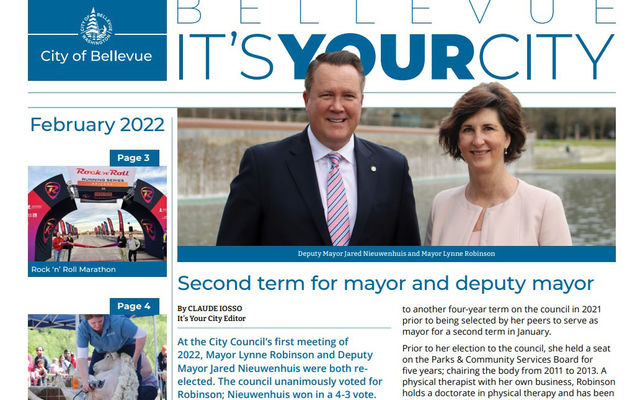 "I am excited to continue in a leadership position with this strong council," Mayor Lynne Robinson notes in a front-page article in the February issue of It's Your City about her rare re-election along with Deputy Mayor Jared Nieuwenhuis to lead the council. "I am excited to continue in a leadership position with this strong council."
The resident newsletter, which went to all 66,000 residential and business addresses in Bellevue this week also features articles about:
Efforts to support equity: The city championed equity with  health fair and performances, along with awards for staff who went above and beyond to support diversity, equity and inclusion. 
Rock 'n' Roll Running Event: The series of half marathons, which takes place in locations around the country, will come to Bellevue this year, with live performances by local artists at multiple stops along the route.  
Sheep shearing is baack: After a hiatus for COVID-19, the annual shearing of the sheep at Kelsey Creek Farm is back in person! With spinning demonstrations and pony rides, the event is a welcome return for live parks events.
The next issue of 
It's Your City
 will come out in June. If you have questions or comments, please contact us. And for more information on Bellevue's coordinated communications program, please visit 
BellevueWA.gov/newsroom
.