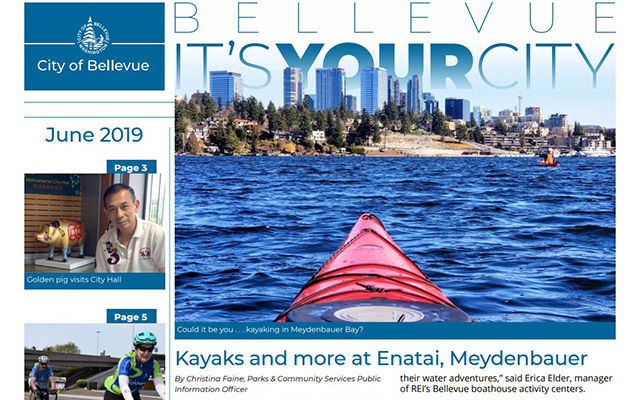 In partnership with the City of Bellevue, REI Co-op now operates boathouses at Enatai Beach Park and the new Meydenbauer Bay Park with classes, outings and rentals for standup paddle boards, canoes, kayaks and pedal boats.
That's the lead story in the June issue of It's Your City, the newsletter that goes to all resident and business addresses in Bellevue. If kayaks and paddle boards don't float your boat, you can also learn about:
a remarkable drop in property crime here over the last five years;
a partnership with the University of Washington that has produced out-of-the-box solutions to civic challenges;
appointments of a Transportation director and chief communications officer for the city; and
a warning about illegal fireworks.
"We're excited to team up with REI to increase the public's access to the water," Patrick Simmons, recreation supervisor for Parks & Community Services, says in the boat article on the front page. "Like REI, we're in the business of providing opportunities for Bellevue visitors, workers and residents to get outside."
REI will offer a range of organized outings, including a "Sunrise over the Cascades" Tour, sunset paddle board yoga and a Mercer Slough kayak tour. For those wishing to explore the lake and slough on their own, rentals are available by the hour, half and full day or for the entire weekend. REI.com/enatai and REI.com/meydenbauer provide hours, programming, class and tour registration, and rental prices.
It's Your City is published three times a year, in February, June and October and mailed free to every address in Bellevue. You can subscribe for alerts when it is delivered as well as for city news as it happens. 
Published on 06/25/2019