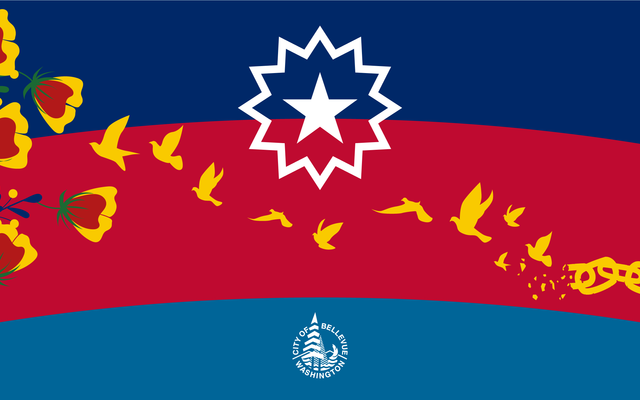 Panel discussion, artistic performances and reception
The City of Bellevue will hold its second annual Juneteenth celebration on Tuesday, June 20. The event, 6:30-8:30 p.m. at City Hall, will include a panel discussion with influential Black leaders and musical, spoken word and dance performances from local artists. A catered reception will follow.
Community members are encouraged to attend the free event in the council chamber. Registration is encouraged. 
Panelists will discuss and reflect on the impact of Juneteenth on them individually and on our communities at large. The panelists represent diverse organizations in the community, including Amazon, Symetra, Bellevue College, Sound Transit, the federal judicial system and the National Basketball Association. The program will also include artistic performances by VCBynum Arts.
Designated a federal holiday in 2021, Juneteenth commemorates the official end to slavery in the United States in 1865, when more than 250,000 enslaved Black Americans were freed in Galveston, Texas, nearly three years after President Lincoln signed the Emancipation Proclamation. The holiday marks a historic milestone and is an opportunity to honor those who were enslaved and recognize the many contributions of Black communities.
The City Council will also recognize Juneteenth with a city proclamation on June 12. The Juneteenth flag will fly at city facilities June 19 to 30. 
For alternate formats, interpreters or reasonable accommodations, please phone at least 48 hours in advance at 425-452-7881 (voice) or email diversity@bellevuewa.gov. For complaints regarding accommodations, contact the city's ADA/Title VI administrator at 425-452-6168 (voice). If you are deaf or hard of hearing, dial 711.