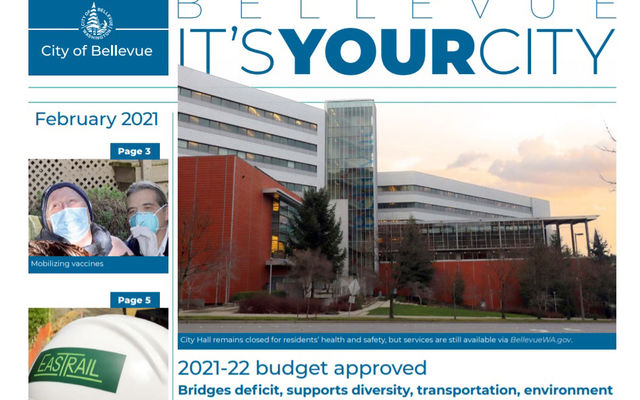 This month's issue of It's Your City offers a look at the "bridge" 2021-22 budget that plugs a pandemic-induced shortfall, while maintaining essential services. The resident newsletter, hard copies of which just went to all 66,000 residential and business addresses in Bellevue, is now also available online.
Highlights include:
Mobile Vaccination Teams: While the supply is still limited, Bellevue's firefighter/medics are ensuring residents and staff in adult family homes keep their place near the front of the line by deploying in mobile teams. 
Diversity Support : The city's new and continuing programs aimed at ensuring equitable services are celebrated in a two-page spread. 
Parks Virtual Programming: Parks & Community Services is offering live and recorded virtual programming about fitness, art and technology to allow people to participate safely in activities without leaving their homes.
For the Council Corner column, Councilmember Jeremy Barksdale takes a timely look at ways the city collectively and residents individually can foster inclusion in our diverse community. 
The next issue of It's Your City will come out in June. If you have questions or suggestions about the newsletter, please reach out to editor Claude Iosso (425-452-4448 or ciosso@gmail.com). 
Published on 02/22/2021