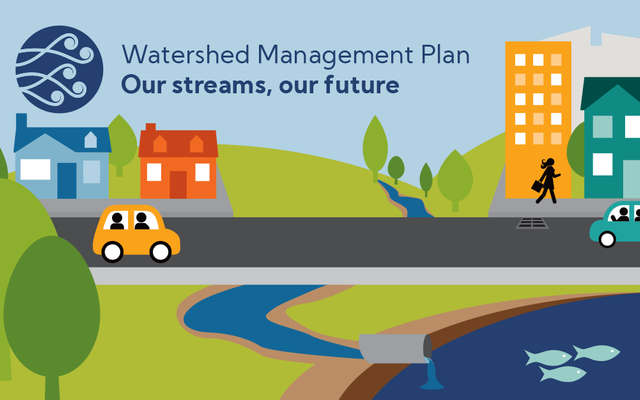 Take a short survey about the city's Watershed Management Plan by Aug. 30
Bellevue residents are invited to take a survey to help shape "Our Streams, Our Future," the 20-year Watershed Management Plan initiated by the city to improve the health of Bellevue's streams for people and wildlife. 
Bellevue's landscape has changed dramatically in the past 150 years, from forests and farmland to a bustling city. That growth, while positive in many ways, can also affect the health of our waterways and the salmon, fish and wildlife who call our more than 80 miles of streams home.
When rain falls over hard surfaces such as rooftops, driveways, streets, highways and parking lots, it picks up pollutants including fertilizers, soap, oil and dirt. This polluted stormwater flows into storm drains, and can harm streams, lakes and wetlands.
As we expand paved areas, more stormwater flows into streams. Too much stormwater running into streams can erode their banks and harm fish and wildlife habitat. What happens in Bellevue's watersheds impacts the water quality and habitat of Lake Sammamish and Lake Washington, and ultimately, Puget Sound. 
The Watershed Management Plan effort is the result of both recommendations from the Utilities Storm and Surface Water System Plan approved by Bellevue City Council in 2015 and goals identified in the recently-adopted Environmental Stewardship Initiative.
The Plan will recommend actions for the city in four categories: 
Projects, such as controlling and treating rainwater runoff from city streets before it gets into streams;
Programs, including removing barriers in streams, so fish can move easily through them; 
Policies or regulations, such as incentives for developers or homeowners to build facilities to clean runoff before it gets into streams; and
Enhanced maintenance, such as more street sweeping to prevent pollutants from entering streams.
The input of residents and community partners will help the city develop an effective plan that will prioritize investments to protect, maintain and improve Bellevue's streams now and in the future. 
To learn more about the plan and take the survey, go to EngagingBellevue.com/watershed-management. 
The survey is open through August 30 and is available in simplified Chinese, English, Korean, Russian, Spanish and Vietnamese.