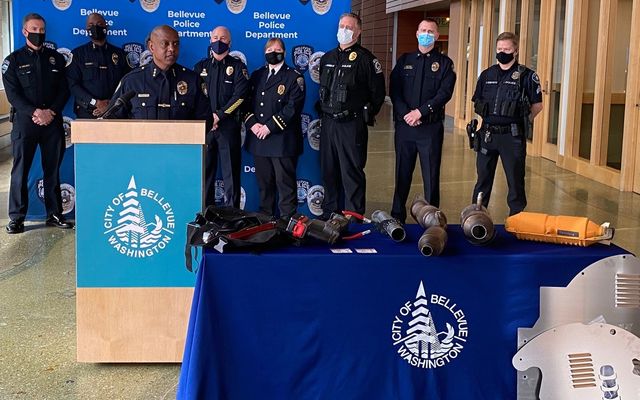 With catalytic converter thefts happening at an alarming rate across the country and in King County, Bellevue police and eight other Eastside law enforcement agencies, are banding together to combat the problem. 
The task force members are sharing case information, intelligence and resources, aiming to stop the thieves and those buying the converters from them. Bellevue police have also launched Project CATCON ID, a campaign to allow residents to have their catalytic converters etched and painted with the last eight digits of their vehicle identification numbers.
"We need to tackle this from all angles," said Bellevue Police Chief Wendell Shirley at a March 1 news conference announcing the task force. "These thieves are hopping from city to city, stealing these converters in a matter of minutes." 
Catalytic converters, which detoxify exhaust gases from a car's engine are readily accessible on the underside of the car. Thieves sell the converters for the precious metals in them. It can cost car owners thousands to replace a converter.
Bellevue police are partnering with local businesses, including Honda Auto Center of Bellevue, to make it possible for car owners to have their converters etched for free. The first CATCON ID community event, at Honda March 7-11, saw 150 car owners get their catalytic converters etched and painted.
"Our task force will investigate and arrest the thieves," Chief Shirley said. "But we also need to partner with our residents and educate them to help prevent thefts in the first place. Etching the VIN and painting the converters will deter some thieves and scrap yards from buying them."
Bellevue police will announce future CATCON ID community events through social media and at Project CATCON ID.