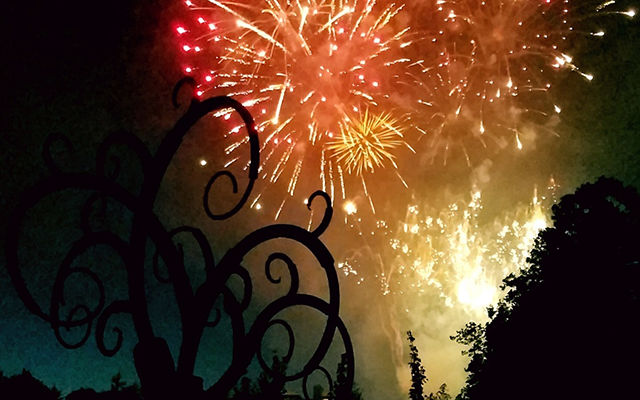 The Bellevue Family 4th, the Eastside's largest fireworks event, is back with live music and games on Monday, July 4, 5-10:40 p.m. at Downtown Park,10201 NE Fourth St.
Enjoying the festivities
The Family 4th presented by The Bellevue Collection will feature family entertainment in the evening and fireworks set to live music by the Bellevue Youth Symphony Orchestra at 10:05 p.m. 
The lineup at the Amazon Entertainment Plaza includes the Lowdown Drifters at 5 p.m. (country) and The Nines! (dance) at 7. The Family Fun Zone will provide family entertainment, a kids area and food trucks starting at 5 p.m. 
To set the stage for the fireworks, the Bellevue Fire Department's Honor Guard will present the colors, followed by a performance of the national anthem by the Highland Middle School Choir.
Getting there and back
Visitors are encouraged to walk, bike, take the bus or carpool to the event. 
 
Transit service to the Bellevue Transit Center (at Northeast Sixth Street and 108th Avenue Northeast) from Seattle and surrounding areas is also available. Comprehensive information about travel options can be found at Chooseyourwaybellevue.org. 
 
Several streets will be closed to vehicle traffic near the park for safety and to minimize delays. Please be patient, observe posted signs and obey police officers directing traffic. Street parking on nearby residential streets is prohibited; violators may be towed.
For a full list of street closures before and after the event, please visit Traffic Advisories  and click "Fourth of July Advisories." Free parking will be available after 5 p.m. at The Bellevue Collection properties (Bellevue Square, Lincoln Square North, Lincoln Square South and Bellevue Place). For efficient post-event exit, park at Lincoln Square or use the Bellevue Place garage and exit via Northeast 10th Street.
Parking for people with disabilities is in Downtown Park's west parking lot off 100th Avenue Northeast. A passenger and food delivery drop-off area will also be on the west side of the park on 100th Avenue.
Staying safe
Masks are not required for the event, but participants are welcome to wear one based on their comfort level. For more information on COVID-19 prevention, safety and reduction resources, including where to get vaccinated, visit KingCounty.gov/covid. 
The Bellevue Fire Department reminds residents and visitors that the sale, use or possession of fireworks is prohibited in Bellevue. Personal fireworks, alcohol and drugs are not allowed at Downtown Park. In addition, grills, barbecues, camp stoves and other cooking devices are prohibited. 
Well-behaved dogs are allowed in the park but must be on a 6-foot leash. No dogs, tents or canopies are allowed in the Amazon Entertainment Plaza seating area. Small tents or canopies are allowed at the park until 8 p.m., when they all must come down.