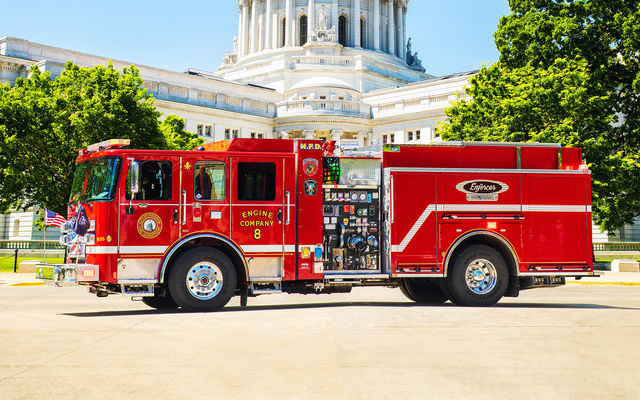 The City Council Monday authorized the Fire Department to use a state Department of Ecology grant to purchase the city's first electric fire engine. The new Pierce Volterra, one of the first municipal electric fire engines in the country, will be housed at Fire Station 1, at 766 Bellevue Way SE. 
"The Bellevue Fire Department looks forward to being a leader, not only in the state, but in the nation, by demonstrating the efficiency of a more environmentally-friendly fire engine without sacrificing safety or performance," Fire Chief Jay Hagen said.
The $649,000 grant, made available through the Washington State Clean Diesel and Volkswagen Settlement Grant programs, will cover up to 25% of the new rig's cost. Acquisition planning for the electric engine will be conducted in 2023, with procurement and delivery anticipated in 2025-2026. 
For years Bellevue has been adding electric vehicles to its fleet and charging stations for them. Bellevue has a strong commitment to remaining a regional leader in environmental sustainability. 
"Adding an electric fire engine to the fleet directly aligns with the implementation of our Sustainable Bellevue plan, which we're accelerating this year," said Ana Hagerup, the city's sustainability program manager. "Trading an older diesel model for a zero-emission fire engine puts us on the path to achieve the city's fleet electrification targets and goal to reduce local carbon emissions by 80% by 2050."
Madison, Wisconsin, home to Pierce Manufacturing, put the nation's first municipal electric fire engine into service in 2021. The only notable difference in performance from diesel models is that it's quieter for both firefighters and the community. 
The cities of Redmond and Seattle are also participating in the grant program, which helps cover the cost of charging apparatus along with the fire engines.