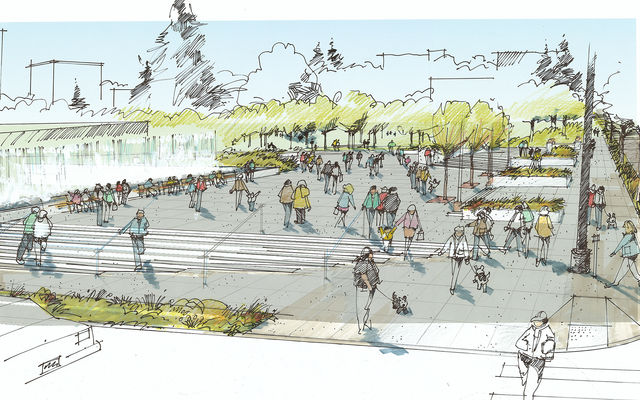 Construction has started on Downtown Park's Northeast Gateway, a new pedestrian entrance to feature an entry plaza, water feature and public art.
The gateway is targeted for completion early next year.
The park's northeast corner, at Northeast Fourth Street and Bellevue Way, is the primary connection between the park and downtown, located at one of the busiest intersections in Bellevue. The entrance is highly visible, with an estimated weekday average of 26,000 people traveling daily down Bellevue Way.
"This project will create an inviting, new front door for Downtown Park on bustling Bellevue Way," said Mayor Lynne Robinson.
"Since ground was first broken for the park in the '80s, it has been every bit the well-loved landmark city leaders envisioned," said Michael Shiosaki, Parks & Community Services director. "Each major improvement since then has made it more accessible and beautiful." 
During construction, most of the park remains open to visitors, with the exception of the northeast quadrant, which includes the Belvedere fountain and a formal garden. Visitors can also anticipate some periodic closures of the east pedestrian entry. 
Bellevue bought most of what is now Downtown Park from the school district in 1983. An international design competition the following year yielded the park master plan. Three major phases of construction on the park were completed by 2017 but the northeast entrance concept was unfinished. 
The park entry design, from MacLeod Reckord Landscape Architects, creates a welcoming transition between downtown and the park. Additionally, the new entrance will be part of the Grand Connection – a pedestrian-focused, interactive, connected 1.5-mile corridor through the heart of Bellevue. 
The project helps to create living-wage jobs in Bellevue during this challenging economic time. Ohno Touchdown JV is the contractor.