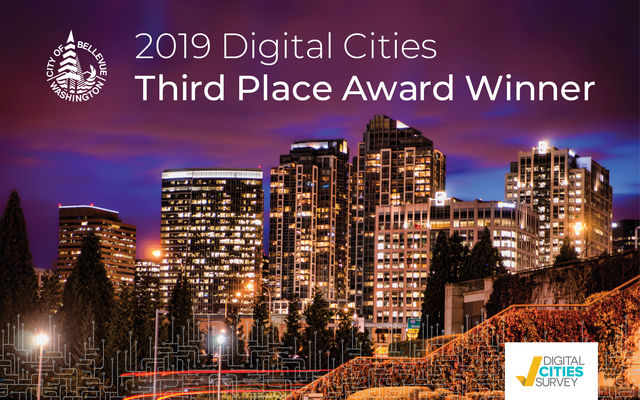 The City of Bellevue took third place in the 2019 Digital Cities Survey, after making all permitting here paperless and taking steps to accelerate development of 5G technology in Bellevue. 
This is the third year in a row that Bellevue has finished in the top five nationwide for cities in the 125,000-249,999 population category. The survey, issued by the Center for Digital Government, is open to all U.S. cities.
"I'm honored by Bellevue's consistent recognition as a Digital Cities winner," said Sabra Schneider, chief information officer with the city. "The Information Technology Department, along with our partners across the city, strives to deliver modern, accessible and secure digital government services for Bellevue. IT collaborates closely with other departments to ensure technology solutions address business needs and support the City Council's priorities for the community." 
The annual survey recognizes the cities that best use technology to tackle social challenges, enhance services, strengthen cybersecurity and more.
In its application, Bellevue highlighted the milestone transition to 100 percent paperless permitting as well as a master license agreement for small cell, to facilitate increased connectivity in the city and pave the way for the future of 5G. 
Additionally, the award also recognized Bellevue for digital work across city services including the following accomplishments: 
Online fee calculator to support paperless permitting
Website migration to Drupal to increase accessibility 
Illegal fireworks reporting application 
Plans supporting autonomous, electric and shared vehicle technologies
Expanding wireless services in parks and King County Housing Authority locations to help bridge the digital divide
Councilmembers Conrad Lee and Janice Zahn accepted Bellevue's award at a ceremony at the National League of Cities annual conference in San Antonio on Thursday, Nov. 21. 
About the City of Bellevue 
Known as a "City in a Park" with nearly 100 parks and a vast network of trails and greenbelts, Bellevue is the fifth largest city in Washington state. The Eastside city spans 33.5 square miles, from Lake Washington to Lake Sammamish. As part of the Innovation Triangle, Bellevue is the high-tech and retail center with a downtown skyline of gleaming high-rises, a diverse population of more than 145,000 and schools that are consistently rated among the best in the country.  
Published on 11/22/2019