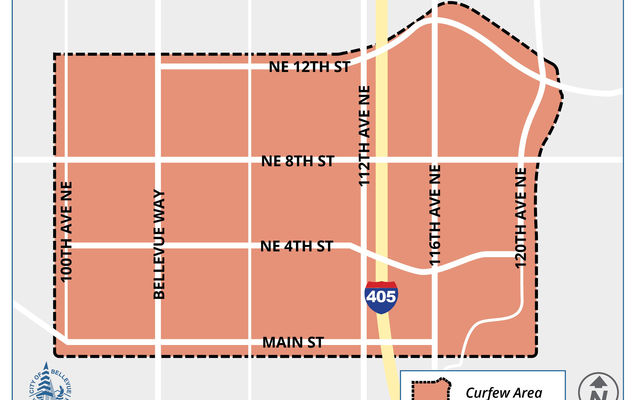 For a third consecutive night, a curfew will be in place for downtown Bellevue. With continued demonstration activity in the area and the threat of additional public disturbances in Bellevue, Mayor Lynne Robinson ordered the curfew, effective 5 p.m., Tuesday, June 2, to 5 a.m., Wednesday, June 3. 
The curfew order states that no person – with the exception of law enforcement and other emergency response personnel, government officials and authorized media – shall enter or remain in the public right of way, public parks or any other public place as bounded approximately on the west by 100th Avenue Northeast, on the south by Main Street/Southeast First Street, on the east by 120th Avenue Northeast/Northeast First Street and on the north by Northeast 12th Street (map). 
The general curfew shall not apply to individuals traveling directly to and from work, experiencing homelessness, fleeing dangerous circumstances or seeking necessary medical services for themselves or a family/household member.
The mayor declared a civil emergency in Bellevue on Sunday as a result of looters downtown damaging property and stealing merchandise. A civil emergency order issued on Sunday and updated Monday prohibits weapons downtown and in other commercial areas in Bellevue (map). 
The city will continue to assess the need for a curfew in the coming days, and release the latest information on its website and social media channels.