Published January 13 2022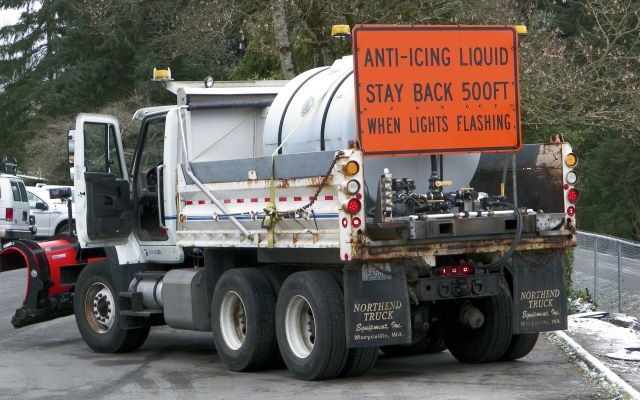 Plus, increasing gender diversity in the fire department and a Rock n' Roll running event comes to Bellevue 
The City Council received a briefing Monday from a wide range of city staff who responded to the blast of freezing temperatures, snow and ice during the holidays. Meeting presenters focused on the city's preparedness and response to the storm that brought an average of eight inches of snow to Bellevue. 
As part of its annual operations, more than 150 staff members from several departments were trained in winter weather response in October. Fleet preparations and staffing plans were in place by Dec. 23 ahead of the initial snow fall on Dec. 26. Response operations functioned 24/7 with 15 snowplows running non-stop for 13 days through two holiday weekends. The approach involved plowing primary arterials in the first few days and then neighborhood streets before the second snowfall event, which turned icy. Operations included pre-treatment to prevent ice, plowing to clear roadways, and treatment to break up the ice. 
Established partnerships with community-based organizations that serve unhoused residents played an important role in the city's response as well. Residents in need were able to access space in shelters and encouraged to seek out warming centers. The city and community members provided donations of critical items including food, blankets and coats. On average across the eastside, approximately 250 unhoused residents were provided for each night during the storm; no one was turned away.
The full presentation is available to watch on replay via Bellevue Television. 
Increasing gender diversity in the fire department
In other business, Bellevue Fire staff shared concerted activity the department is taking to increase gender diversity in Bellevue's fire service to develop a workforce more representative of the community it serves.
While Bellevue is slightly above the national average for the percentage of women serving in the department, women still represent just 4.5% of the department's more than 220 uniformed staff members. Nationally, there are 11,000 female firefighters among the approximately 350,000 firefighters in the country according to the National Fire Protection Association, with more than half of American departments containing no women firefighters currently.
Some of the activities undertaken by Bellevue Fire to improve these statistics include using a Hiring for Equity guide, changes in testing and evaluations during hiring, education campaigns to demystify perceived barriers to women entering the fire service and involvement in local and regional recruitment efforts to reach women, especially young women, such as a youth camps and various workshops. Data from west coast fire camps for young women revealed that 8-13% of participants go on to pursue a career in the fire service. In addition, Bellevue Fire recently hosted the King County Fire Chief's first-ever Diversity, Equity and Inclusion Workshop, which attracted 75 candidates from diverse backgrounds. 
The full presentation and more information is available in the meeting materials. 
Rock n' Roll running event comes to Bellevue
The council also received a report on the work being done by the city and partners to prepare for hosting the Washington State Rock n' Roll Half Marathon running event later this year.
The event, which takes place over Labor Day weekend in September, reflects the city's goals in its most recent economic development plan update to place a larger emphasis on tourism and convention business while positioning Bellevue as a destination for visitors with its welcoming, vibrant and multicultural community. 
Athletic events, in particular, offer significant economic benefits to host cities including increased hotel nights given that they typically start early in the morning and include multiple days of activities. These events also generate business for local food and beverage establishments as athletes refuel. The Rock n' Roll event was particularly attractive to Bellevue because of its track record engaging with community organizations and highlighting local culture. The event is an international brand that can give Bellevue broader exposure to visitors and is expected to draw approximately 4,500 overnight attendees while delivering business sales approaching $5 million to the regional economy. 
More details about the event, including updates on city planning efforts and opportunities for the community to get involved in the event as the race gets closer, are at bellevuewa.gov/rock-n-roll-running-events. 
 
NOTE: Due to the Martin Luther King Jr. holiday, the council will meet next on Tuesday, Jan. 18.