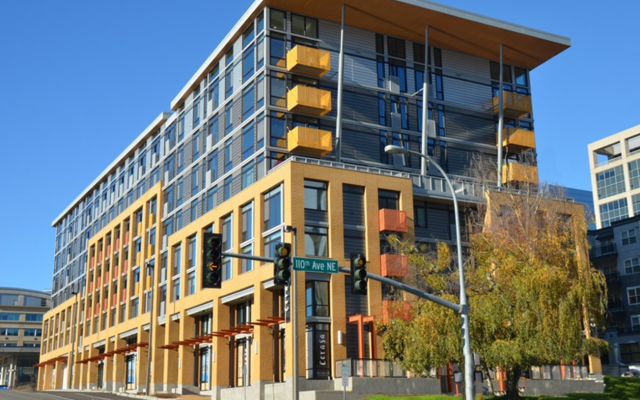 Plus, state lawmakers on hand for recap of productive legislative session 
On Monday, the City Council received an update on the city's progress within the Affordable Housing Strategy adopted in 2017. Since its adoption, Bellevue has created or preserved approximately 1,500 affordable housing units or shelter beds. About 700 additional housing units are expected to come online over the next couple of years.
Recent accomplishments reported include:
Partnerships with businesses, namely Amazon and Microsoft, for grants and loans that will result in more than 500 affordable housing units being created or preserved.
90 units for emergency shelter as well as wraparound services for families at risk of homelessness provided through nonprofit Mary's Place in a temporary downtown location. 
Recent update of the city's Multifamily Tax Exemption program has created full participation by developers of new projects, with nearly 500 units in various stages of the development pipeline.
Investment of $3.3 million in sales and use tax collected through House Bill 1590 for housing-related services and housing for the LifeWire program in Bellevue.
Several land use changes to support affordable housing development.
In addition, the city will be updating its Housing Needs Assessment this year which is a major input to the planning taking place to expand housing opportunities through the periodic update of Bellevue's Comprehensive Plan, due in 2024.
Bellevue will also be entering into a stakeholder engagement phase soon to help identify the next planned actions for the Affordable Housing Strategy in the 2022-2023 timeframe, with considerations including how to balance housing and job growth, land acquisition strategies, expanding the range of housing typologies in the community and potential new revenue sources for affordable housing. The council will ultimately determine the actions to pursue later this year. More details are in the meeting materials. 
State lawmakers on hand for recap of productive legislative session
As part of an update for the 2022 legislative session, councilmembers thanked state lawmakers who attended the meeting on Monday. The appreciation was part of a broader briefing on regional policy issues of interest to the city, plus adoption of Bellevue's 2022-2023 federal legislative agenda. 
Among the state legislative highlights covered was passage of the 16-year, $17 billion Move Ahead Washington transportation package. It included funding for several investments the City of Bellevue requested:
Closing a financial gap for the timely completion of projects along the I-405/SR 167 corridor; $380 million was allocated.
Legislators allotted $18 million for Eastrail, the north-south, regional pedestrian and bicycle path that runs for seven miles through Bellevue. 
$6.9 million in funding to help close a "Bellevue Gap" in the east-west Mountains to Sound Greenway Trail along Interstate 90.  
State legislators in attendance Monday were: 41st District Sen. Lisa Wellman and Rep. Tana Senn; and 48th District Sen. Patty Kuderer, Rep. Vandana Slatter and Rep. Amy Walen. 41st District Rep. My-Linh Thai was unable to attend.
"We feel so lucky to have you representing us and it's really an honor to have you all here at our meeting," said Mayor Lynne Robinson. "I think you recognize we have a very engaged council here who are all eager to work with you in the next session to tackle some of the remaining issues and emerging issues as they come along. Thank you so much for being here." 
Other parts of the approved state budget that were supported by Bellevue's legislative agenda included: support for small business and other initiatives to assist the state's recovery from the COVID-19 pandemic; bills addressing police reforms and social and criminal justice issues; funding for affordable housing, homelessness and human services; policies and investments supporting climate and the environment; and many more. 
The discussion also included a review of Bellevue's draft federal legislative agenda, based on City Council Vision Priorities and an assessment of projects that are expected to advance and be ready for construction within the next session. The council voted unanimously to move the proposed agenda ahead.
More information on the state and federal legislative updates is available with the council agenda materials and the full discussion is available on video replay on Bellevue Television.