Published February 17 2022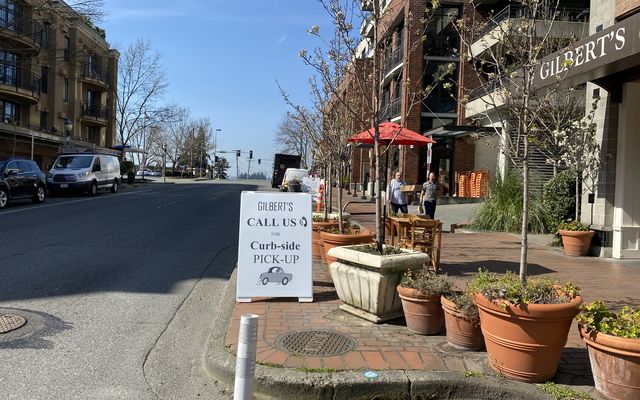 Plus, apprenticeship program research and 80th anniversary of Japanese American exclusion 
NOTE: The next Bellevue City Council meeting will take place on Monday, Feb. 28. There will be no meeting the week of Feb. 21.
On Monday, the City Council voted to direct city staff and the Transportation Commission to develop content for a Curb Management Plan and to develop policy language in support of the Curb Management Plan as part of the city's 2022 Annual Comprehensive Plan Amendment program.   
A Curb Management Plan would establish more deliberate policies, practices, and guidance on how curb areas should be designed, maintained, and operated over time. As Bellevue's urban areas have grown in recent years and new and unique uses came to the fore particularly during the pandemic – including dedicated take-out parking areas, food delivery drop zones and on-street dining programs – curbside management has become even more important to the safety and efficiency of Bellevue's transportation system. 
The city released more details on a potential curb management program and is offering an opportunity for the public to provide initial feedback at engagingbellevue.com/curb-management-plan. The work plan will include several ways for the public and stakeholders to weigh in through the program development process.
Recommendations for policy changes would come back to the council for future action. The full presentation and council discussion on Feb. 14 is available through video replay on Bellevue Television.
Apprenticeship program research
Continuing discussion on a topic introduced in September2021, councilmembers were presented with a policy proposal to initiate further research into implementing an apprenticeship utilization program, which would require apprentices to be used for certain public works projects and contracts in the City of Bellevue. 
The proposal recommends initiating a program that would require minimum participation of the work done on public works projects in the city valued at more than $1 million to be done by apprentices. The aim of apprenticeship utilization programs is to create unique employment opportunities, especially for members of the community earning lower wages, to learn the skilled trades, gain experience that can lead to a stable family wage, and make living in Bellevue attainable. 
The council voted unanimously to continue staff work toward developing a framework, evaluating its legal and fiscal implications, and investigating feasibility of such a program in the city. More details on the program proposal, elements and current research is in the meeting materials.
80th anniversary of Japanese American exclusion
Mayor Lynne Robinson began the meeting by recognizing the 80th anniversary on Feb. 19, 2022, President Franklin Roosevelt's Executive Order 9066. The policy authorized the U.S. Government to create military exclusion areas for all persons deemed a threat to national security, primarily targeting Japanese Americans living on the West Coast.
More than 300 men, women and children from Bellevue were sent to relocation centers, or internment camps, further inland. Many Japanese Americans lost their homes, businesses, livelihoods and properties. 
"The 80th anniversary is an opportunity to educate others on the fragility of civil liberties in times of crisis and the importance of being vigilant in protecting the rights and freedoms of all," said Mayor Robinson. "I want to take this opportunity to reiterate the city of Bellevue's commitment to inclusion, access, equality and opportunity for all. Let us continue to work together to ensure this never happens again."