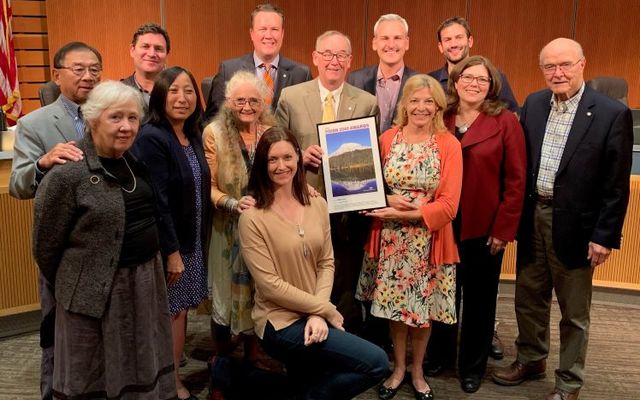 Plus, update on Neighborhood Walks and Vision 2040 award
On Monday, the City Council unanimously agreed to extend Bellevue's multifamily tax exemption program. The MFTE is a voluntary affordable housing incentive that allows developers certain property tax exemptions in exchange for including 20% affordable housing in a new apartment development. 
The MFTE program has been operating under a five-year trial phase that will sunset at the end of 2019 without council action. Councilmembers moved to extend the program without a further expiration date and will continue to receive reports on the program, paired with Affordable Housing Strategy updates. 
More information on the MFTE program as established in Bellevue City Code under Chapter 4.52 can be found here. 
2019 Neighborhood Walks 
The council also received an update on the success of Bellevue's Neighborhood Walks initiative, which held five walks in various Bellevue neighborhoods in June and July. The program started in 2017 at the direction of the city manager as a way for city leadership to get out into the community and have more conversations with residents in their neighborhoods. Feedback collected from each Neighborhood Walk is discussed on the spot and sent to the applicable city department for follow-up. A full report on the information collected and a program overview are located here. 
Future plans for the program include increasing accommodations for accessibility, expanding promotional efforts, and engaging in additional planning with neighborhoods to expand reach. Consideration of language needs and how to effectively accommodate them was also identified as an emerging opportunity.
Vision 2040 award
Finally, councilmembers joined the Puget Sound Regional Council (PSRC) in presenting 30Bellevue Apartments with a 2019 Vision 2040 award. The project team was led by Imagine Housing, and project partners included St. Luke's Lutheran Church, Walsh Construction, SMR Architects, and many public funders including Bellevue and ARCH. 
30Bellevue includes 63 green and affordable apartments, more than half of which serve families and individuals leaving homelessness. Vision 2040 awards recognize innovative projects and programs that help ensure a sustainable future as the region grows.   
Published on 09/18/2019