Published January 12 2023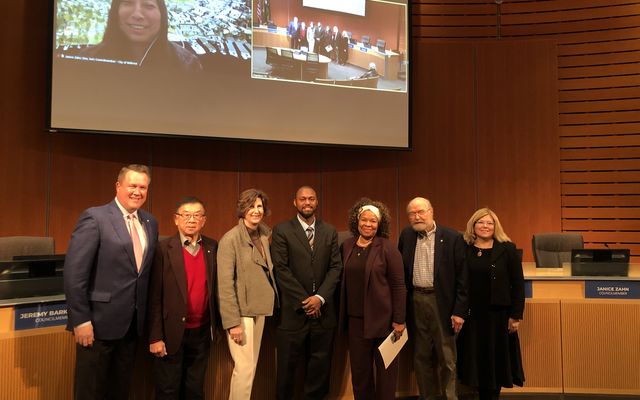 Plus, amendments to true up land use codes and proclamation for MLK Day
On Monday, the City Council was briefed on initial work done to implement a safe parking pilot program for residents living in their vehicles in Bellevue. The program purpose is to provide a safe location for vehicle residents to find stability and support in accessing permanent housing.
Development of a safe parking program is one of the council's 2021-2023 priorities, and in 2022 the council approved a budget of $450,000 per year to implement a pilot program as part of the city's homelessness response. The program would provide a clean, safe, off-street parking area with nearby access to bathrooms, water and showers, as well as case management and related services to support residents.
Initial program research included interface with local nonprofits, investigation of other successful safe parking programs and outreach to the community, including individuals who have lived in vehicles. Based on input from such individuals, the services most desired in a safe parking program include: bathrooms, security, running water and garbage service and showers. The program will use a portion of the Lincoln Center parking lot as a site for the safe parking pilot.
The city is expected to select a program operator, who must develop a safety plan and code of conduct for the site, and launch the pilot around the third quarter of this year. The full presentation with details is available in the meeting materials. 
Amendments to true up land use codes
The council also reviewed a proposed Shoreline Master Program (SMP) Conformance Land Use Code Amendment (LUCA) and Environmental Procedures Code Conformance Bellevue City Code Amendment (BCCA). Both sets of proposed amendments reconcile provisions within the SMP and Environmental Procedures with LUCA provisions adopted in summer 2022 related to the former East Bellevue Community Council and quasi-judicial appeals of land use decisions to the City Council. 
Following discussion, the council directed staff to schedule the public hearing for the LUCA and prepare the Environmental Procedures Conformance BCCA for adoption on consent at a future meeting. 
More information is at Shoreline Master Program and SEPA Conformance Amendments and the council discussion is available on Bellevue Television replay.
Council proclamation for MLK Day in Bellevue
In other business, a proclamation was read for Martin Luther King Jr. Day to honor and celebrate the civil rights icon and leader whose resistance to injustices raised awareness and spurred action to expand access to opportunity and end structural inequities for all people.
Each year, the city partners with the Bellevue Alumnae Chapter of Delta Sigma Theta Sorority, Inc. to hold an MLK Celebration and Health Fair. This year, the event will be held virtually 10-11:30 a.m. on Monday, Jan. 16 to celebrate MLK Day. More information and event registration is available at MLK Health Fair.
NOTE:  The next Bellevue City Council meeting will be on Tuesday, Jan. 17 due to the MLK Day holiday on  Jan. 16.