Published November 10 2021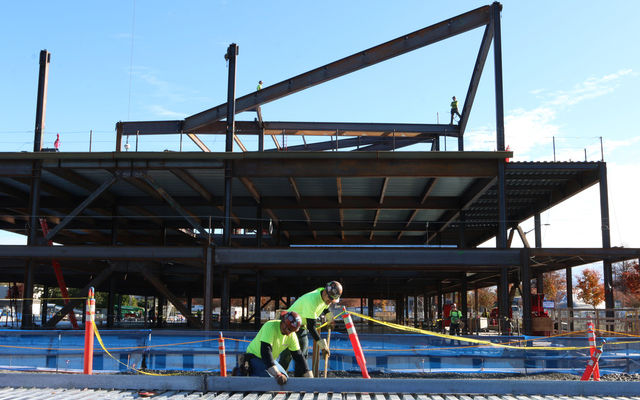 Plus, mid-biennium budget conversation continues and city prepares for winter weather season
On Monday, the City Council received a regular quarterly economic development update and a report on the results of a recently completed biennial business survey. The survey is conducted every two years (since 2015) and is a valuable way for the city to understand the needs of local businesses and provide high-quality services.  
Responses to the survey represented about 10% of Bellevue's business community. In general, responding businesses reported feeling optimism and an overall strong economic position as it relates to ongoing recovery from the COVID-19 pandemic. Eighty percent of respondents stated their business was either somewhat or very strong. 
Half of small businesses responding to the survey said affordable commercial space was a barrier for them. It was mentioned in the economic development update that the city recently awarded rent relief grants to 43 businesses using federal relief dollars. Low interest business loans were also mentioned as one of the most important needs in the next three years.
The economic development update also highlighted continued improvement in unemployment numbers and hotel occupancy, a virtual job fair later this month and efforts to bolster the recovery of hard-hit sectors during the pandemic, such as tourism and arts and culture.
Visit Bellevue was on hand to discuss a proposed Tourism Promotional Area, or TPA, a partnership between the city, the hospitality industry and other jurisdictional partners in the area. A TPA would be expected to improve Bellevue's ability to attract visitors and further develop tourism for future growth, which includes an anticipated 40% increase in Bellevue's hotel space in the next five to six years. A typical TPA accelerates tourism demand by 2-5% per year, which could add $42 million in visitor spending in Bellevue. In addition, a TPA generates revenue through special assessments on hotel room nights.
The council unanimously passed a motion for city staff to draft an Interlocal Agreement with partners to further explore the potential for a TPA. 
Both presentations can be viewed on replay through Bellevue Television and more detail on the business survey results, TPA and economic highlights are in the meeting materials. The city also hosts a business survey history page on its website, to which this year's data will be added.
Mid-biennium budget conversation continues
In other business, the council continued on its path toward adopting the mid-biennium budget for the city with a discussion on the current budget forecast and the adjustments needed at the halfway point of the two-year budget cycle.
Items being considered during the mid-biennium budget include development services fees, property tax banked capacity, property tax levy, the full budget ordinance and any other items brought forth by council.
Bellevue balanced the 2021-2022 general fund budget by closing a $32 million gap through cost containment strategies, reduced maintenance in some areas of the city, and one-time bridge structures. Since then, 2021 has seen uneven recovery across sectors. Continued development and construction activity in the city has allowed city sales and business & operating taxes to begin returning to pre-pandemic levels. However, high inflation rates (6.3% at the time of the report) are resulting in steep cost increases to run city operations. The mid-biennium adjustments reflect these economic realities. Despite the continued uncertainty, the city expects to be back to 2019 revenue levels by the end of 2021.
A public hearing on the budget will be held later this month and council action on the mid-biennium budget is expected by early December. More details on the budget are in the meeting materials and the presentation can be viewed on video replay.
City prepares for winter weather
Also on Monday, transportation staff briefed the council on how city employees from four departments prepare for and respond to winter weather events such as snowstorms. 
Staff from Bellevue's Transportation, Utilities, Parks and Finance and Asset Management departments received training in late October on how to respond to and recover from winter weather events. 
This season, Bellevue will expand the use of automatic vehicle location (AVL) technology to monitor snow removal progress on priority routes (snow routes map). A goal of AVL is to one day provide a public-facing map that shows what roads were recently plowed. 
Another development is a partnership with the University of Washington to test new ways for dealing with ice and snow on one of the city's longest, steepest roadways: Lakemont Boulevard. Pilot technology includes new sensors that can monitor roadway temperature, pavement conditions and changes in vehicle traffic, plus additional "snow cams" for better video monitoring. 
Bellevue's topography presents a challenge for snow and ice responses. Since most snow events happen at higher elevations, there is usually enough equipment to service the city's high priority routes -- and clear residential streets. However, if snow is widespread, crews must focus only on priority routes until conditions stabilize. The most important criteria are life-safety, followed by protecting property, followed by mobility. More information is available with the council agenda materials.