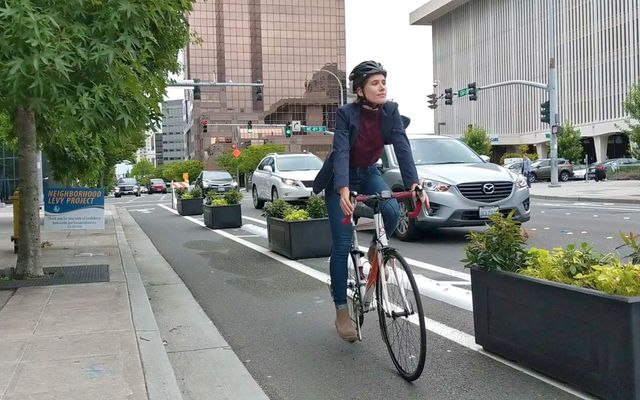 Plus, Bike Everywhere Month proclamation
The City Council Monday was given an initial briefing on the approach and challenges expected in the upcoming budget planning cycle for the 2021-2022 general fund and the 2021-2027 Capital Investment Program (CIP), especially given the impacts from the ongoing COVID-19 pandemic and economic slowdown.
The initial workshop included a proposal for a temporary, one- to two-year flexibility in the city's sales tax policy to allow up to $3 million in revenue to move from the CIP budget to the General Fund. This would aid in balancing the General Fund budget to avoid making drastic, short-term cuts in services. It will potentially result in deferment of maintenance and other programs in the CIP budget. 
The budget team shared three budget scenarios based on the speed of economic recovery from the COVID-19 pandemic – rapid, moderate, or moderate-plus – resulting in a budget gap ranging from $12 million to $16 million in 2021-2022. For planning purposes, finance staff will use the least optimistic scenario for their current budget process but will adjust as more detailed information becomes available. The three scenarios assume recovery will take two to three years, depending on recovery speed, and all scenarios can be viewed in detail in the presentation materials. The team also reviewed all criteria and tools being used in the budget planning process. 
Additional budget workshops and a series of public hearings will take place on the budget proposals in the coming months. Deliberation by the council will begin in October. A final adoption of the proposed budget approach is currently scheduled for December. This week's discussion is available through video replay on Bellevue Television.
Bike Everywhere Month proclamation
The mayor and city council proclaimed June 2020 as Bike Everywhere Month in Bellevue to recognize and encourage the hundreds of thousands of riders in Washington state who bike for travel and recreation.
Biking provides health, economic and environmental benefits. The City of Bellevue added 10 miles of new bike lanes in 2019 and will add eight more miles of on- and off-street bikeways in 2020. The city also created a Healthy Streets pilot program recently to allow people to safely bike and walk while maintaining appropriate physical distance during COVID-19.
Note: Due to June 29 being the fifth Monday of the month, no council meeting will take place. Councilmembers will reconvene again on July 6. 
 
Published on 06/25/2020