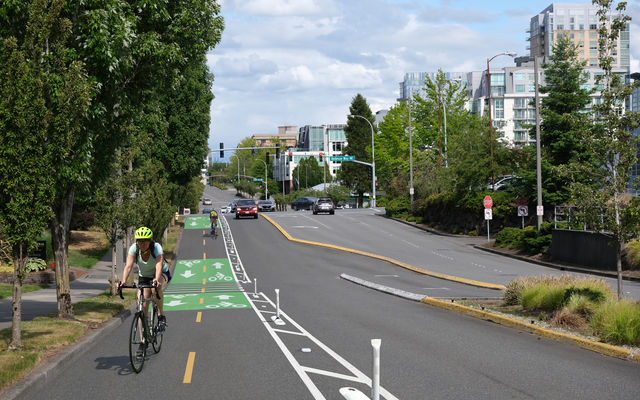 Plus legislative updates, extensions on certain permits and board and commission appointments
On Monday, the City Council heard from staff about a new program to improve mobility options in Bellevue. "Bike Bellevue" aims to implement bicycle network improvements in the urban core area of downtown, Wilburton and BelRed. The goal of Bike Bellevue is to enhance the city's multimodal transportation system and help make it safer and more equitable, sustainable and accessible for everyone.
Bike Bellevue stems from previous work by the city to improve the safety, connectivity and comfort of the bicycle network in the city. It is informed by public involvement and planning undertaken through the 2009 Pedestrian and Bicycle Transportation Plan, the 2016 Bicycle Rapid Implementation Program, the 2020 Vision Zero Strategic Plan, the 2022 Mobility Implementation Plan and recent Capital Investment Programs. These past efforts helped inform the project principles for Bike Bellevue.
The council approved the Bike Bellevue project principles and directed staff to work with the Transportation Commission to prepare a recommendation for implementation. 
State legislative update
The council also heard an update on the state legislative session now underway. The update focused on priorities in the State Legislative Agenda adopted by the council in November.
Bellevue has prioritized affordable housing and land use in the current session. There are bills in motion regarding accessory dwelling units, lot-splitting, permitting timelines and processes, and transit-oriented development. Staff also provided an update on the city's request for funding to acquire land for affordable housing development.
Other topics in the update included funding requests for several key city projects, including the Mountains to Sound Greenway Trail and Mini City Hall, which connects Eastside residents to employment, housing and medical and legal services in Crossroads.
Extensions for some permit types
Also at Monday's meeting, the council approved an ordinance extending the life of building and clearing and grading permit applications and issued permits by 180 days. 
The proposal was introduced at the March 13 study session, where the council asked for the ordinance to come back for adoption with an additional provision to include active applications and permits from the effective date through June 30. The extension will affect approximately 10,000 applications and permits. More information is available in the meeting materials. 
Commission appointments
In other business, councilmembers unanimously approved two appointments to the Library Advisory Board by council liaison Conrad Lee. Sam Fetchero will serve a partial term expiring on May 31, 2025, and Kat Pipkin will serve a partial term expiring on May 31 of this year.
The council also unanimously approved 11 board and commission member reappointments. The members serve on the Arts, Environmental Services, Human Services, Planning, and Transportation commissions, as well as the Library Advisory Board. All the reappointments expire on May 31, 2027.
The council appoints residents to boards, commissions and committees that provide detailed study and recommendations on important policy matters. More information about these groups can be found at Boards and Commissions.