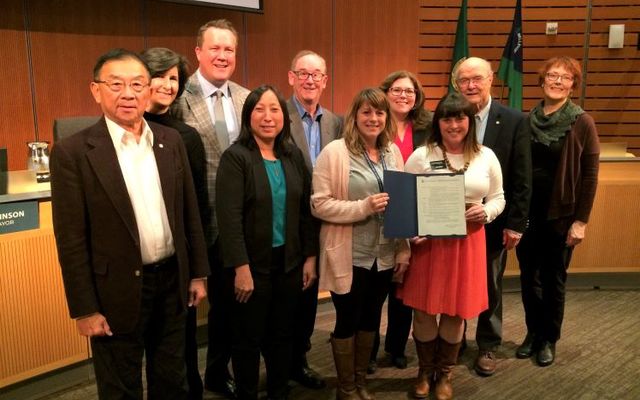 Plus, Lights On Afterschool proclamation 
On Monday the City Council received a report from A Regional Coalition for Housing (ARCH) outlining progress made in 2019 and ARCH's 2020 administrative budget and work program. 
Among the 2019 accomplishments, two affordable housing developments were opened, including 30Bellevue, with 63 affordable homes. The first 24/7 shelter for women and families on the Eastside also broke ground; it's expected to open in late 2020. ARCH noted it received nine applications in September for housing projects that propose adding over 1,000 units/beds in the region. 
Given the growth of the program over the years and the recent influx of applications for affordable housing, the overall ARCH budget for 2020 is increasing by 53% to expand staffing, strengthen enforcement and improve the technical systems used to administer the program. Since the early 2000s, ARCH has experienced a 600% increase in the homes it administers with no changes to staffing levels. 
ARCH work program items in Bellevue focus on continued support for the city's land use incentive and multifamily tax exemption programs and partnership on the Affordable Housing Strategy. 
This report was an opportunity for councilmembers to discuss and ask questions about the plan. ARCH will ask the council for formal approval of the budget and work program at an upcoming council regular session. The full discussion is available online courtesy of BTV. 
Aquatic center feasibility progress update
In other business, the council received a progress report on an updated feasibility study initiated earlier this year for a regional aquatic facility. Several program options were presented that varied in size, cost and complexity, with all proposals having scalable elements. 
The discussion covered ways to incorporate the current Bellevue Aquatic Center's Odle Pool into the plan, where to site the facility and the types of pools and activities available at the aquatic center. The baseline cost estimates for the facility spanned from $70 million to $110 million. Total size of the facility in the proposals ranged from 97,000 square feet to 164,000 square feet. 
The council will likely review the final study findings in the spring. The materials presented at this week's meeting are attached to the study session agenda item.
Lights On Afterschool Day proclamation
At the regular session, the mayor proclaimed Oct. 24 as "Lights On Aftershool Day" in recognition and support of valuable after-school programs. The effort promotes activities for children that keep them safe and productive beyond the regular school day. Representatives from Boys & Girls Clubs of Bellevue and KidsQuest Museum were on hand to accept the proclamation.  
 
Published on 10/23/2019