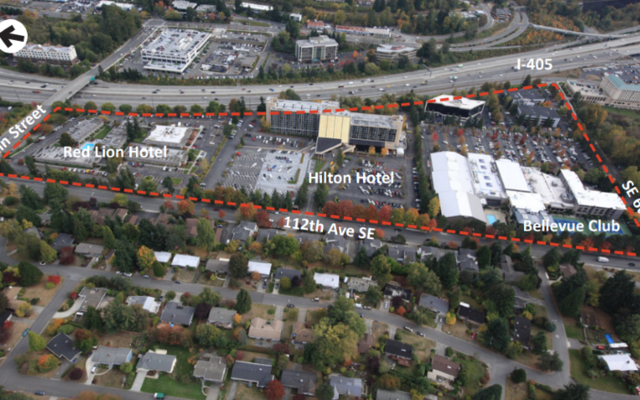 Plus, public hearing for East Main Land Use Code Amendment, American Rescue Plan Act funding approval and permanent supportive housing discussion
On Monday, the City Council reviewed a recommendation to initiate a request for proposals to fund affordable housing capital projects using House Bill 1590 (HB1590) funding. HB1590 was approved by the State legislature in 2020, enacting a tenth of a percent sales tax increase to fund affordable housing and related services. 
Revenue of roughly $8.5 million for Bellevue in 2021 will go towards preservation and creation of affordable housing for low-income residents and to providing behavioral health and housing related services to support and enhance housing stability. The council reviewed and approved funding in the amount of $1.6 million for the behavioral health and housing services portion.  
This week the councilmembers reviewed funding priorities for the capital projects component. Based on feedback from stakeholder engagement, the recommended priorities for funding capital projects through HB1590 funds include projects that address and prevent homelessness and housing instability, serve households earning 0-30% of the area's median household income, and focus on vulnerable, underserved populations. The priorities will be applied to a Request for Proposals (RFP) initiated by the city to fund up to $6 million in capital projects.  
Councilmembers unanimously approved moving forward with the RFP and allocating the funding in line with the recommended priorities. Their full discussion is available through video replay from Bellevue Television. The city expects to issue the RFP in August, with applications due at the end of September. Final recommendations for HB1590 funding for capital project proposals is expected to go before council for a vote in early 2022.
Public hearing for East Main Land Use Code Amendment
Also this week, a public hearing was held on the proposed Land Use Code Amendment (LUCA) for the East Main Transit Oriented Development (TOD) land use district to consider height and form, density, the amenity system, landscaping, parking, street and pedestrian circulation, pedestrian bridge, and other development elements for the East Main TOD. 
After hearing from several community members during the public hearing, councilmembers identified topics and information that the Council would like to discuss in future study sessions before they vote on the final proposed LUCA.
More details are in the meeting materials and the public hearing and council discussion are available through video replay.   
American Rescue Plan Act funding approval
In other business, the council unanimously voted to begin the process of using up to $8 million in federal funding through the American Rescue Plan Act (ARPA). The act provides $1.9 trillion in funding nationwide to continue responding to the COVID-19 pandemic.
Bellevue expects to receive approximately $20 million in ARPA funding through 2022. The most critical needs for the city in its pandemic recovery efforts include housing and workforce stability through rent and eviction relief, workforce assistance and small business help. 
The council unanimously voted to initiate budget amendments to authorize the plan to allocate $7 million in funds to assist approximately 1,000 households in paying of back rent and future rent to keep them in their homes, as well as transitional support for those already evicted. The plan would also use $500,000 for small business rent relief through 55 small business grants and $500,000 to provide workforce assistance to more than 2,000 unemployed Bellevue residents and 20 businesses in creating new development programs such as internships. 
The city will release more information to the community once the funds have been allocated and made available. More details on the funding and the budget amendment process are in the meeting materials.
Permanent supportive housing discussion
Councilmembers also discussed the standards and elements the city should include in its work plan for facilitating and regulating permanent supportive housing in Bellevue.  
Next week, the council is scheduled to review recommendations discussed based on an analysis of feasibility and other considerations. The full discussion and proposed work plan elements can be viewed through video replay. The rationale and list of proposed items to consider adding to the workplan are in the meeting materials.