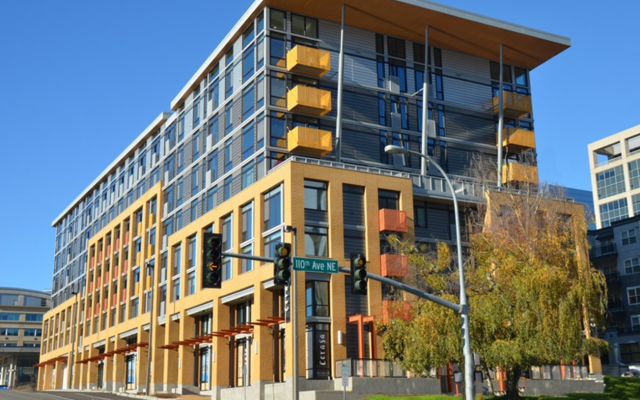 Plus, Transportation Commission members confirmed
On Monday, the City Council received its twice-yearly update on progress achieved through the city's Affordable Housing Strategy. The strategy, adopted in 2017, contains 21 specific actions to preserve existing and create new affordable housing in Bellevue. 
Since adoption of the affordable housing strategy, a total of 1,118 affordable housing units and 100 shelter beds have been funded or built, with 632 more affordable units in the current development pipeline. The plan has a goal of creating 2,500 units over 10 years, with an expectation that momentum for housing creation will build as the actions in the plan are implemented.  
The council discussion focused on looking for ways to achieve even more affordable housing and adjust the overall program goal to get closer to meeting the current demand in the area. More than 16,000 Bellevue households are cost-burdened or severely cost-burdened by their housing costs, meaning they spend more than 30 percent of their income on housing. 
Further information on Bellevue's Affordable Housing Strategy is available on a dedicated web page and more details on recent progress are in the meeting agenda item.
Multifamily Tax Exemption program update
One specific program within the Affordable Housing Strategy is the Multifamily Tax Exemption (MFTE) program that was implemented in 2015. The program has not yet met its expected yield of 65 affordable units per year. At the last affordable housing update to the council, councilmembers expressed interest in updating the program to make it more effective.
The MFTE program allows apartment developers to get a tax exemption in return for allocating at least 20 percent of the total units in a project as affordable housing. Since 2015, 63 units through two projects have used the MFTE program. The work to update the program would examine potentially expanding the geographic areas where MFTE may be used and continue outreach to developers to understand the barriers to using tax incentive programs such as MFTE.
Councilmembers voted unanimously to continue researching program update options for increased effectiveness to be reviewed at a future study session in early 2021. The full discussion and presentation on the MFTE program is available through Bellevue Television.
Transportation Commission members confirmed
Two applicants to join the Transportation Commission were unanimously approved by the councilmembers. The seven-member commission reviews topics from infrastructure planning to traffic codes. A third proposed candidate withdrew from consideration prior to the meeting.  
Matthew Klutznick and Christina Beason will serve four-year terms expiring on May 31, 2024. 
Additional information on Bellevue's boards and commissions is available on the city website.
 
Published on 10/07/2020