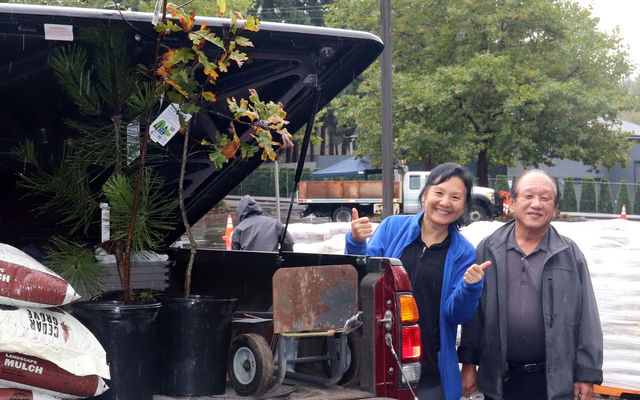 Plus, anti-graffiti measures and Women's History Month recognition 
On Monday, the City Council heard a quarterly update on the implementation of the Sustainable Bellevue Environmental Stewardship Plan and an overview of the 2023 Environmental Stewardship Initiative workplan. The plan has goals and targets for 2030 and 2050 and includes actions in five focus areas: Climate change, energy, materials management and waste, mobility and land use, and natural systems.
Key actions so far include:
a second annual tree giveaway in October (supported by a $35,000 grant from Amazon), where 1,000 trees were distributed to Bellevue residents and community organizations
mini-grants for decreasing waste at businesses and schools
launch of the Energy Smart Eastside heat pump campaign in partnership with Redmond, Kirkland, Mercer Island and Issaquah 
Work has also begun on reducing the emissions of city facilities, including a grant from the state Department of Commerce to install solar panels on City Hall, upgrading LED lighting at the Bellevue Service Center and improving the energy efficiency of fire stations 1, 2, 3 and 8.
Over half of the actions in the Sustainable Bellevue plan have been started or completed. Implementation of the plan is one of council's priorities for 2021-23. Details about the update are available in the agenda materials. 
Anti-graffiti measures
Councilmembers also discussed potential code amendments to address graffiti removal in the city. The council included funding in the 2023-24 budget aimed at ensuring Bellevue remains safe, clean and vibrant, identifying anti-graffiti measures as a priority.
The city has seen a substantial increase in complaints about graffiti in recent years. A potential change to the City Code Chapter 9.10 would define graffiti on private property as a nuisance and require its removal. Councilmembers discussed the potential code changes, as well as programmatic approaches and potential community partners to help increase awareness and support prevention.  
The council directed staff to return with a proposed code amendment, develop an education program and review ways to offset the financial impacts of graffiti removal for property owners in the city. The agenda materials include details.
Recognizing former councilmember and Women's History Month 
In other business, a commendation was presented to the family of former City Councilmember Jean Carpenter, who died on Oct. 26, 2022. Jean, who served on the council from 1988 to 1991, was a true community servant, holding leadership roles at many local nonprofits before and after her time on the council. 
She was also a strong proponent for women's advancement, being named a Soroptimist Woman of Distinction in Community Service in 1991 and Best Diversity Advocate for Bellevue in 2002.
It was fitting that the commendation was read on the same night as a proclamation recognizing March as Women's History Month. Women's History Month celebrates the vital contributions of women of every race, class and ethnic background to our society and acknowledges that more needs to be done to overcome the barriers still faced by women today. 
More information on Women's History Month, including virtual events and online exhibits, can be found at WomensHistoryMonth.gov.