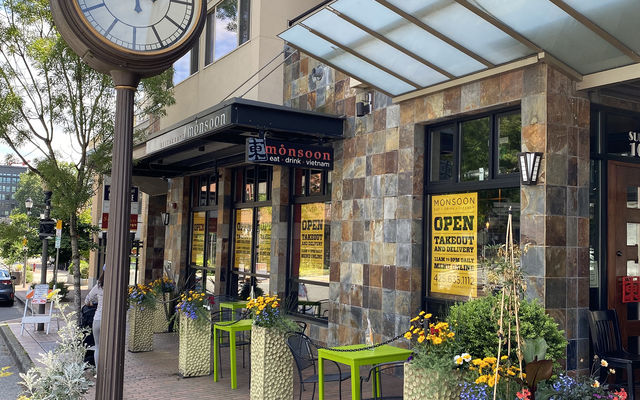 As local businesses continue to adapt their operations as part of the state's Safe Start reopening plan, the city is extending additional support to restaurants located on and near Main Street in Old Bellevue and encouraging interested businesses to apply now.
Based on input from the Old Bellevue Merchants Association and local restaurateurs, retailers and residents, the city's economic development and transportation staff are now facilitating temporary expansion of sidewalk cafes into select on-street parking spaces. Interested businesses should visit BellevueWA.gov/mainstreet for more information and details on how to get started.
The expanded Main Street patio dining program is designed to support local restaurants during a period of significantly lower revenue and seating capacity restrictions due to the COVID-19 pandemic.
"Old Bellevue is such a unique and beloved part of our city," said Mayor Lynne Robinson. "This program will help more residents and downtown employees continue to enjoy local restaurants and retailers while maintaining public health, and it will help businesses adapt by increasing dining capacity during the crucial summer months. This kind of program has been successful in other cities and we think residents will be excited to experience it in Bellevue."
City staff will work with interested restaurant owners and operators to temporarily expand existing sidewalk cafes into targeted on-street parking stalls. The city intends to provide technical assistance through the process and commit to review times of less than a week.
The city anticipates permitting these on-street patio extensions through early September, though sidewalk patios can remain open year-round. Travel lanes on Main Street, as well as most on-street parking spaces, will remain open. 
This new effort builds on previous work by the city to support small businesses and nonprofits through COVID-19, including:
"These programs are examples of how government can help businesses adapt to the COVID-19 pandemic," said Mac Cummins, the City's Community Development Director. "Business owners and nonprofit leaders in need of support should reach out for direct assistance. Whether they run a restaurant in Old Bellevue or a hair salon in Lake Hills, we're here to help."
A full list of COVID-19 business resources is also available on the city's website.