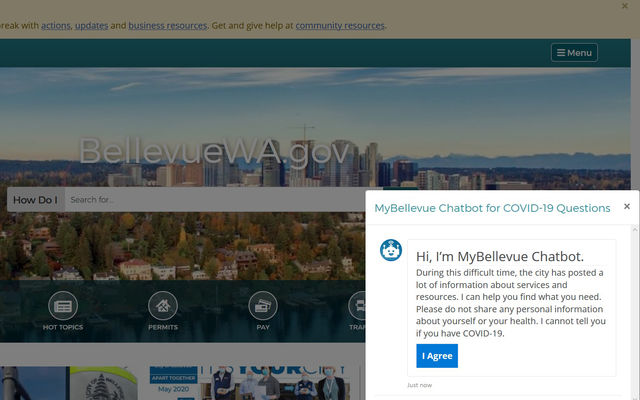 To guide residents and businesses to needed COVID-19 resources faster and easier, the city has introduced a chatbot on its website, using artificial intelligence to improve online service delivery during these times. Service First and other staff are still available to take phone calls and emails. 
The MyBellevue chatbot is programmed to quickly field many common questions about issues related to the pandemic – from unemployment and health precautions to food banks and small business loans – by directing users to specific information posted on BellevueWA.gov and nonprofit and government agency sites.
Located on the home page and all of the city's COVID-19 resources pages, the chatbot is poised to answer more than 95 unique questions concerning government support and nonprofit help for people coping with COVID-19 and the economic shutdown it's forced.
"We know people have questions during COVID-19, and a chatbot is one way to get accurate, relevant information to them quickly," said Sabra Schneider, Bellevue's chief information officer. 
"We recognize some people may take comfort in talking with a person or may have complicated questions that require more interaction," Schneider noted. "The chatbot is intended to augment person to person conversations, not replace them." People with questions not addressed by the bot will be directed to staff contacts and/or the general website.
Since the pandemic began to impact Bellevue in early March, the city has created several web pages addressing COVID-19, including city response, news updates, community resources and business resources. The services listed are provided by local, regional and national government agencies and nonprofits. Staff is regularly updating those pages as new resources become available.
The chatbot is not currently designed for general questions about all city services; people can find services not related to the pandemic by searching or navigating the website. 
Published on 05/28/2020