Published February 16 2023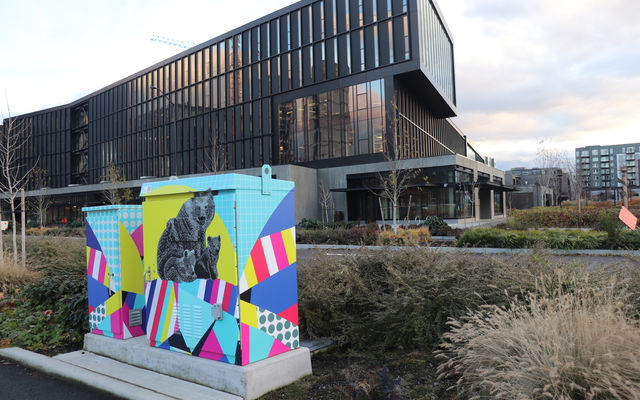 Plus, remembrance for Japanese American incarceration
A nonprofit partner is emerging to lead efforts to establish the BelRed area as an arts district, the City Council learned Monday. Currently known as the BelRed Arts District Association, the organization is on a mission with the city to make the area east of downtown "the epicenter of arts, culture, creativity and innovation on the Eastside." 
The association's efforts to recruit community partners for events, property owners for space for creative pursuits and creative business to fill new storefronts was a highlight of the Cultural and Economic Development division's report on the progress of the BelRed Arts District.
The city has encouraged the development of an arts district in BelRed since 2009, when a subarea plan was adopted that included land use code changes to facilitate the area's transformation from a light industrial zone to transit-oriented urban villages.  
Dozens of arts organizations and businesses now occupy BelRed, including the Pacific Northwest Ballet's Francia Russell school, the Evergreen Arts Collective, the Bellevue School of Rock, Theatre33 and the Yaun Ru Arts Center, to name just a few. 
Last year, the city created a five-year plan to support BelRed's evolution as an arts district, which recommends four focus areas:
Management: An active, formal managing body is needed to lead the effort. The BelRed Arts District Association, which met first last year, could represent the district and partner with the city.
Visibility: The city has issued grants for events and is leading an effort to create murals and other public art in BelRed, which will help raise the profile of the arts institutions there.
Creative space: The city is studying the feasibility of ensuring affordable housing and studio space for artists and arts organizations in BelRed, as the cost of commercial space is rising with the area's transformation.
Connection: Staff have reached many BelRed arts groups and individuals over the last year to identify needs and perspectives.
Councilmembers were enthusiastic about the progress of the arts district. More information is available in the council memo and the BelRed Arts District webpage. 
Remembrance of Japanese American incarceration
In other business, a proclamation was read recognizing Sunday, Feb. 19 as a Day of Action and Remembrance for Japanese American Incarceration during World War II. On Feb. 19, 1942, after the bombing of Pearl Harbor, President Franklin Roosevelt signed an executive order that authorized the internment of Japanese Americans living on the West Coast. 
More than 120,000 Japanese Americans, including more than 300 Bellevue residents, were forcibly relocated from their homes to camps in remote inland parts of the continent. Most of the Bellevue families who were relocated lost everything and never came back to the city. 
Kyle Kinoshita, president of the Seattle chapter of the Japanese American Citizens League, was on hand for the proclamation.
Next meeting Feb. 27
The council will not meet on Monday, Feb. 20, due to the Presidents Day holiday. The next council meeting will be Monday, Feb. 27.